Chechnya is one of the few places in the North Caucasus that most foreigners have heard of before. Especially due to the wars in the region in the 1990s and early 2000s, the word "Chechnya" has stuck in people's memories, most often with negative connotations of being dangerous and unstable. The present reality, though, is that the security situation has really stabilized, and the number of domestic and foreign tourists traveling to Chechnya continues to grow each year. Maybe you will be one of those travelers in the near future? Read further for all you need to know about visiting Chechnya.
1. How do I get to Chechnya?
Chechnya has one of the best travel infrastructures in the North Caucasus region, because of all the rebuilding done after the Chechen wars. This makes it quite unique in the Caucasus region, where you often encounter poor roads and a lack of infrastructure in some of the more beautiful areas. On the contrary, Chechnya has very nice roads and public transport areas.
In light of this, here are the best ways to travel to Chechnya:
A. Plane – Grozny has a small but new international airport (GRV), with daily flights to/from Moscow, as well as weekly flights to/from St. Petersburg, Rostov, Astrakhan, and Novosibirsk within Russia. There are also weekly international flights to/from Istanbul, Turkey, as well as Dubai, UAE, and Jeddah, Saudi Arabia. If wanting to visit some of the neighboring republics to Chechnya, you can just as easily fly into Magas (IGT – Ingushetia), Beslan (OGZ – North Ossetia), or Makhachkala (MCX – Dagestan).
B. Train – Grozny has a nice train station not far from city center. There are bi-weekly trains to/from Moscow, which have stops in Mineralni Vodi, if you're looking to train there from a different part of the North Caucasus. The city of Gudermes is the Chechnya stop on the main railway through Chechnya (going further to Dagestan and finishing in Baku, Azerbaijan), so you can also take the train to/from there. Those traveling into the Russian Caucasus by train from the south can take the bi-weekly train from Baku all the way to Chechnya.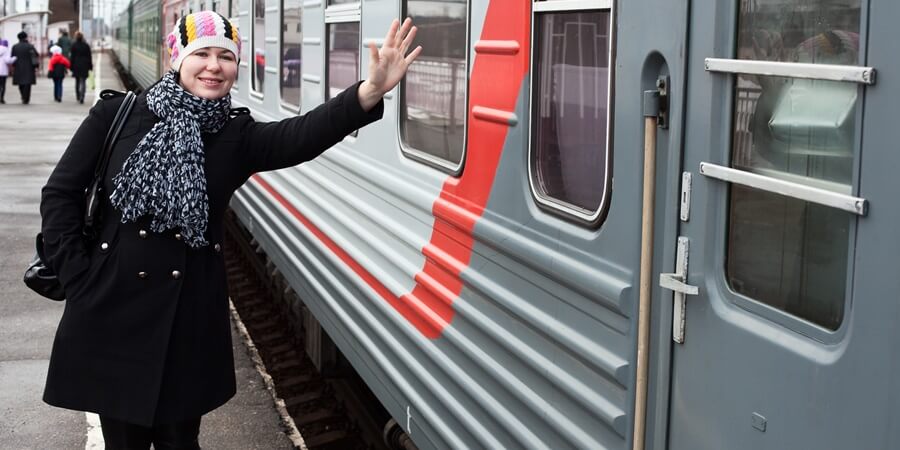 C. Car/Public Transport – Chechnya is accessible by car from multiple regions, including Ingushetia to the West, Dagestan to the East and Northeast, North Ossetia to the Northwest, and Stavropol Krai to the North. The main Caucasus highway runs from the West through Ingushetia (Sunzha) to Chechnya, and from the East through Dagestan (Khasavyurt) to Chechnya. There are also daily marshrutkas and buses going to Grozny from the rest of the Caucasus, including Makhachkala, Nazran, Nalchik, and Pyatigorsk. If you're traveling from the country of Georgia, it's about 2 hours to Chechnya's border once you enter Russia.
For the most adventurous travelers, there is also a mountain road from the Botlikh region of Dagestan into Chechnya's Kezenoy-Am region. The views are stunning and this road takes you through the heart of the mountains in both regions. You may be questioned more by border officials on either side of the border for traveling on this local road, but it is quite the adventure for those who like that sort of thing.
2. Where should I stay?
Because Chechnya's infrastructure is some of the newest in the North Caucasus, there are excellent options for where to stay while there. Here are just a few:
A. Grozny – The capital of Chechnya is your launching point for your visit to this republic. Grozny has the only 5-star hotel in the North Caucasus according to Russian ranking systems. Your best options in Grozny:
-4/5-star luxury – Grozny City, TheLocal
-Centrally-located and easier on the wallet – Central City, Dona Hotel
-Not Downtown but comfortable stay – Berkat , Gorodok
B. The mountains – Chechnya has multiple mountain gorges with lakes, waterfalls, and even a ski resort to explore. Here are some of the hotels in Chechnya's corner of the Caucasus Mountains:
-Lake Kezenoy-Am – This the most famous attraction in Chechnya's mountains and as a result, there are multiple hotels to stay at here: Kezenoy-Am Hotel, Hotel Rodnik
-Argun Gorge – The Argun Gorge is home to multiple of Chechnya's beautiful mountain attractions, including the Ushkaloi Towers, Nikaroi Waterfalls, and Veduchi Ski Resort. Here are two hotels to stay at in this corner of Chechnya: Edelweiss Hotel, Astar Mini-Hotel
Of course, the best option is to stay in a local Chechen person's home. Chechens are world-renowned for their hospitality towards guests, and many of them would be delighted for you to stay with them if the opportunity presented itself.
3. Top cities to visit?
It goes without saying that Grozny is a must-see in your visit to Chechnya. For those who have visited the rest of the Caucasus region, you will notice how different Grozny feels because of how new everything is, compared to some of the older capital cities in the region. Especially the "Grozny City" part of town feels like something you'd find in Moscow or Dubai.
Chechnya also has numerous smaller cities and towns that are worth visiting, particularly two suburbs of Grozny: Argun and Shali. Both of these cities have beautifully-designed mosques, with Shali being especially famous as home to Europe's largest mosque, the "Pride of Muslims" Mosque, which can hold up to 70,000 worshippers. Two other cities that are worth exploring to see life outside the capital are Gudermes and Urus-Martan.
4. Best local foods to try?
Every nationality in the North Caucasus has their own, unique dishes, and Chechnya is no exception! Here are some of the local foods you MUST try while in Chechnya. One thing is for sure: you won't leave here with an empty stomach. 🙂
A. Zhizhig Galnush – This is the centerpiece of Chechen cuisine: boiled chunks of meat (beef or lamb) with boiled dumpling-style pasta, dipped in garlic sauce and bouillon. It really does melt in your mouth.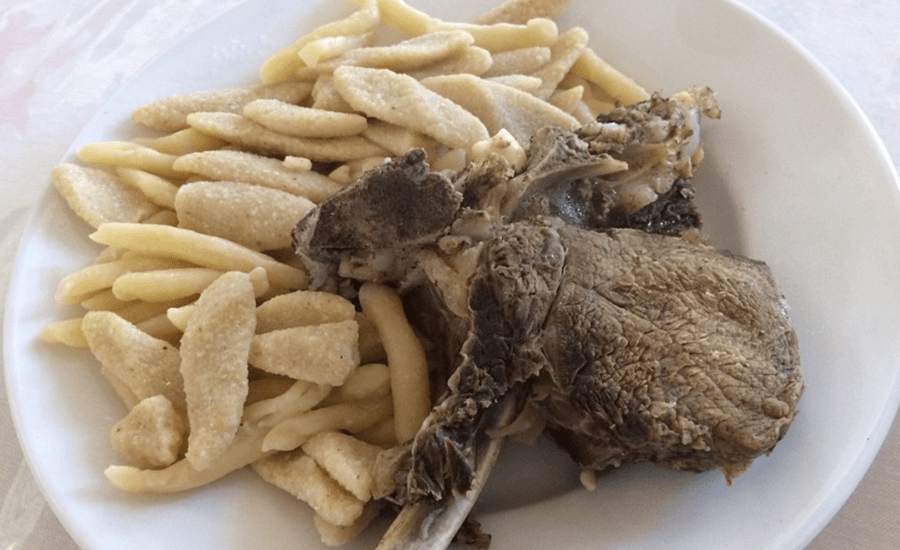 B. Chapilgush – This is Chechnya's version of Caucasus flat bread, fried on a stovetop with cottage cheese filling. Even more unique is the pumpkin-version of this dish, called khingalsh, which has much more of a sweet taste.
C. Baar-Galnush – Try this one at your own risk. 🙂 Also unique in the greater Caucasus, this dish is cow stomach with rice and other organs as filling. Bon appetite! 🙂
Of course, any Chechen dish should be washed down with a cup of chai (hot tea), a staple of Chechen meals and gatherings.
5. What are the best hole-in-the-wall restaurants?
Grozny is full of great restaurants, so it could be hard to know which ones to choose, especially as you walk through its bustling downtown. Here are our top three, all of which may appeal to different tastes:
A. Garage Cafe – This is a quaint cafe on the outskirts of downtown, with a car theme on the interior of the restaurant. The food is great and the atmosphere unique compared to more standard fare through the rest of the city.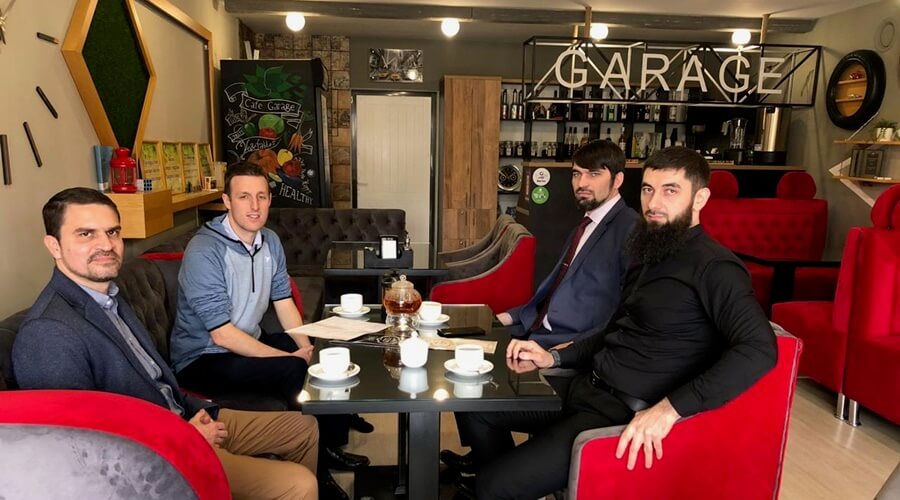 B. Dai Kherch – This restaurant is about 10 minutes from downtown and definitely off-the-beaten-path for tourists, but well-known by locals. The decor is authentically Chechen, and you'll be able to try your hand at all of the afore-mentioned local dishes.
C. Kupol Restaurant – Definitely the "fanciest" of our recommendations, this restaurant is on the top floor of Grozny's 5-star hotel, Grozny City. On a clear day, you can enjoy your meal with a stunning view of the snow-capped Caucasus Mountain Range in the distance, or in the evening gaze out over nighttime Grozny. You'll be pleasantly surprised at the affordable prices for a restaurant of this quality!
6. What are the top 3 must-see tourist attractions in Chechnya?
Like in any Caucasus Mountain republic, to choose just three attractions is nearly impossible, with each mountain gorge offering unlimited beauty. But since we have to choose, here is where to start:
A. Heart of Chechnya Mosque – This is the centerpiece of Grozny, and for many Chechens a sign of the re-building of the republic after the Chechen Wars. Built in a Turkish design, the surrounding territory is grand and the interior architecture is stunningly beautiful. Tourists are welcome. Make sure to take your shoes off before entering; women will be asked to wear a head covering and to observe from the 2nd floor.

There are two other mosques nearby Grozny that may also attract your attention, the Aimani Kadyrova Mosque in Argun with its unique green color scheme, and the Pride of Muslims Mosque in Shali, which now lays claim to being Europe's largest mosque.
B. Lake Kezenoy-Am – This lake is as beautiful as the pictures show: lush green, rolling hills in the summers, and striking blue waters that contrast with the landscape in any time of year. Kezenoy-Am is the largest lake in the North Caucasus, and right on the border of mountainous Dagestan. It's definitely the most popular destination for local Chechens when they want to go to the mountains. You can also visit the re-built village Hoi right past the lake, and adventure options abound in summer-time: horseback riding, ziplining, and more. Kezenoy-Am is about a 3 hr. drive one-way from Grozny.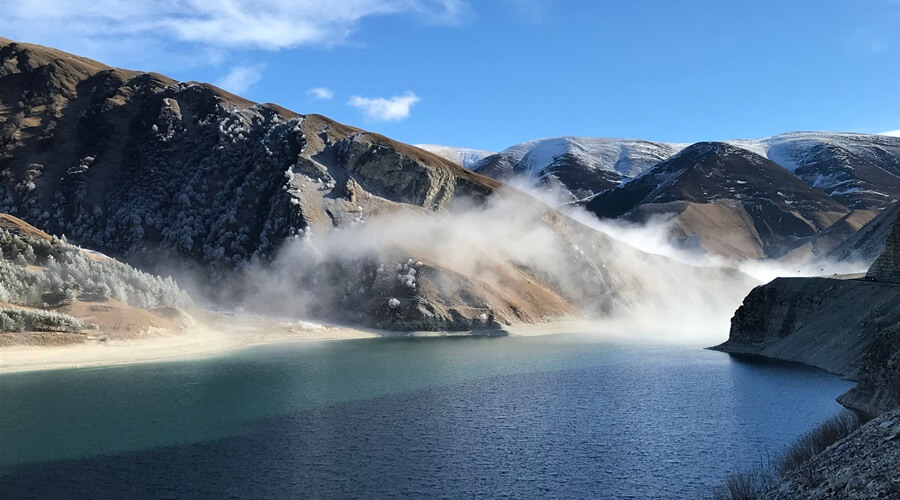 C. Ushkaloi Towers – This is a set of two watchtowers built directly into the side of a steep rock-faced wall in a narrow strip of the Argun Gorge. While they are easy to miss today, in ancient times these towers served as an important guard system to alert others further up the gorge, if enemies were approaching. Ushkaloi is not far from the Veduchi Ski Complex as well as Nikaroi Waterfalls, so there is much to see in this beautiful region.
7. What are the top 2 off-the-beaten-path destinations to visit?
If you're visiting Chechnya, you're already ensuring that most destinations you visit are off-the-beaten-path for the average international traveler. With that in mind, we give you these two unique off-the-beaten path destinations in Chechnya:
1. Nash-khoi – Although you won't find this destination on any travel guide to Chechnya, this is a very important place for Chechens, as it is the birthplace of their Vainakh civilization (overarching term for Chechens, Ingush, and Kist nationalities). It is up the Galanchokh gorge in SW Chechnya, with incredible views from Nash-khoi mountain, as well as a local village and towers. You will probably need a local to take you here to keep from getting lost!
2. Have chai or a meal with a local person! – While this may seem like a superficial suggestion if you don't know any local people, Chechens are extremely hospitable and will often invite foreigners to their home or to a cafe to have tea (or even a full-blown meal) with them, after meeting them somewhere in public. This is a great window into how local people live and gives great opportunity for getting past the standard tourist fare and into real interaction with the local population. Be flexible with your schedule and say yes to invitations from locals!
8. Do I need a border permit to visit Chechnya?
Depending on what country you are from, you may need a tourist visa to visit Russia, and hence Chechnya, since Chechnya is a part of Russia. In light of this, most of the main tourist attractions in Chechnya are accessible to foreigners. There are two main exceptions that one needs a border permit to see: the Necropolis Tsoi-Pede, and the tower complex Nikaroi.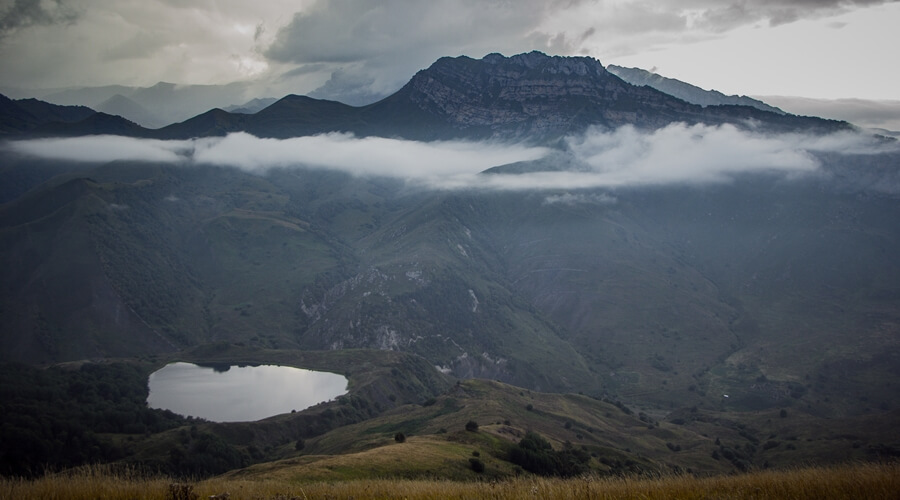 While these are beautiful attractions and well-worth the effort to see and experience, please do not attempt to visit them without a border permit. This permit is for visiting mountainous regions of Russia within 5-10 miles of the border with Georgia. Foreigners can receive permits to visit these regions, but must apply to the Border Service at least 60 days in advance, typically in conjunction with a local guide or tour agency (and you aren't guaranteed to receive the permit). If you do receive the permit, it's wisest to visit these regions with a local guide or tour agency, who will vouch for your presence there in case any questions arise.
9. Anything specific about traveling in Chechnya I should know about dress, culture, tradition?
While you may buck at the idea of a "dress code", this is very important in Chechnya. Chechnya is a conservative Islamic republic with strong traditional values. They are very welcoming of guests and appreciative when guests respect their traditions, esp. in how they dress. For men, this mainly means not wearing shorts, and covering up any tattoos that would otherwise be visible. For women, this means wearing loose fitting clothing, knee-length or longer skirts/dresses, and no see-through clothes. Head coverings are not required but appreciated.
One thing you'll probably notice is a strong police presence in the republic, both at security checkpoints as well as throughout Grozny and other cities. While this may be discomforting to you depending where you are from, it's one of the measures the local government has taken to ensure societal peace and order, since the wars ended many years ago. As with any place you visit as a tourist, if you show respect to the local traditions and comply with the law, you should have a good experience.
We hope this guide was the gentle nudge you need to make travel plans to visit Chechnya. It's a fascinating place with unique customs, history, and breath-taking landscapes. The local people love guests and will be happy to see you!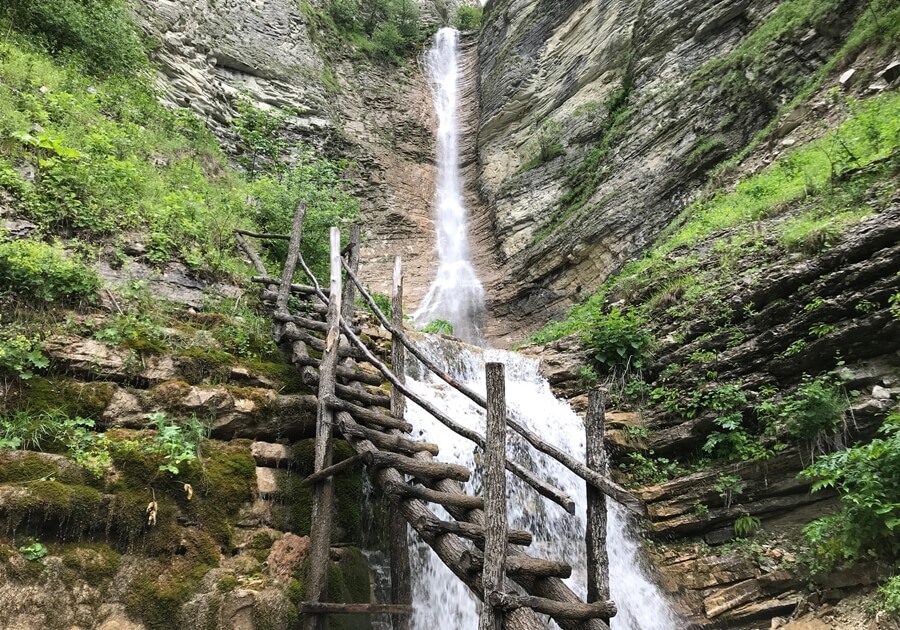 For more information, here is additional information about travel and culture in Chechnya from the podcast CaucasTalk:
–Travel Tips to Chechnya (audio version of this blog)