A DEEP DIVE INTO RUSSIA'S WILD WEST! 9 DAYS / 8 NIGHTS
DAY 1: ARRIVAL IN DAGESTAN: MAKHACHKALA
Welcome to Dagestan!  Makhachkala's airport has daily flights from Moscow.  Once transferred to your hotel, you're welcome to crash from jet lag or grab some dinner and start exploring Dagestan's capital this first evening!  The Jacques Hotel has a fantastic restaurant if you'd like a low-key start to the trip.  Regardless of what you decide, rest up tonight, because your Dagestan adventure starts in full force tomorrow morning!
After breakfast in your hotel this morning, your long-awaited Dagestan experience begins!  Today you'll see the highlights of Makhachkala, the largest city in the North Caucasus, with around 750,000 inhabitants.  Highlights include one of Russia's largest mosques, the Central Market, the Caspian Sea Coast, as well as some of the cultural attractions of the city, including an Avar-language theater and the Dagestan Museum of Fine Arts.  Makhachkala is a bustling city full of life and most of Dagestan's over 35 languages/nationalities, so make sure to experience it's nightlife this evening, as tomorrow you'll head to the mountains!  There are lots of restaurants to sample local cuisine from, to take your pick!
DAY 3: SULAK CANYON, UNTSUKUL, & GUNIB
Today begins your encounters with Dagestan's many natural wonders, as you'll head west from Makhachkala, to the famous Sulak Canyon, sometimes referred to as "Russia's Grand Canyon."  The turqouise-colored waters will be sure to catch your eye.  From Sulak, you'll head to the mountains, and famous Untsukul village, where you'll take a masterclass from local wood-workers.  There will be an opportunity to purchase some amazing hand-made wood products here.  After a delicious meal in a local home, you'll finish the day driving to Gunib.  The driving will be worth it for the beautiful views you wake up to tomorrow morning!
DAY 4: GUNIB, CHOKH, SOGRATL, & GAMSUTL
Welcome to Gunib!  Gunib is famous for being built in what looks like the side of a mountain.  This Avar-majority area is home to Imam Shamil, Dagestan's famous religious leader who led the resistance against the Russian armies in the Russian/Caucasus War of the 19th century.  You'll spend 3 nights in Gunib, so will have ample time to explore the city and surrounding area.  This morning you'll head to Chokh, a nearby village, and one of Europe's oldest known settlements, dated at 10,000 yrs. old!  After lunch, we'll visit local village Sogratl, and if time allows, you'll make the hike up to Gamsutl at sunset, an incredible abandoned village within eyesight of Chokh.  Gamsult has not been inhabited in over 50 years, and it's quite the experience to hike up to it and then explore its remains.  You will sleep well tonight after your first full day in the Gunib area.
DAY 5: KARADAKH GORGE, KHUNZAKH, & GOTSATL
You'll spend a bit more time on the road today, getting to know Dagestan's famous mountain roads more intimately.  Much of Dagestan's land mass is covered by mountains, and so often locations that are close as the bird flies, can take several hours to get to (by vehicle) because of towering rock faces, mountain passes, and the windy roads carved into the side of them.  Late morning you will have arrived at Karadakh Gorge, which is a 400-meter long gorge, as tight as 2-4 meters in some spots, and as high as 170 meters at times.  This natural wonder is sure to take your breath away.  This afternoon, you'll then visit the Tobot Waterfall in Khunzakh, one of the North Caucasus's most scenic waterfalls, pouring over the cliff right outside the village Tsoloti.  Its flow is especially powerful in May/June when the winter snows are melting and pouring down the mountains.  And what would be a day in the Dagestani mountains without experiencing local hospitality, as you visit the village Gotsatl and learn about the local jewelry-making traditions!
Say goodbye to Gunib this morning as you head southeast to Balkhar, one of Dagestan's most famous locations for hand-made pottery, ceramics and traditional water jugs.  After seeing beautiful Salta waterfall on the way, you'll arrive in Balkhar and see how these Lak women produce such quality products.  This will be an authentic experience as you take a pottery class and pit your skills about Dagestani's finest!  After a meal in a local home, you'll continue on to Kubachi, where you'll spend the night in a local home.  Despite the lack of 4-star accommodations tonight, the genuine hospitality and tasty mountain food will more than make up for any lack. 
DAY 7: KUBACHI, KALA-KOREISH, & DERBENT
Today continues your tour of Dagestan's natural beauty but also fascinating array of hand-made products.  Kubachi is famous for its hand-made jewelry and metalwork.  Make sure to bring some extra money to purchase some of these locally-made products for yourself or friends & family back home.   Kubachi is a Dargin village, so you'll continue to interact with Dagestan's different nationalities.  Late morning, you'll visit Kala-Koreish, the first Islamic settlement in the North Caucasus with direct ties to the descendants to the Prophet Muhammad.  From here, you'll transfer to the village Majalis and see their ancient embroidering tradition still alive today, and finally to Dagestan's most famous city, Derbent, for your final two nights.  You'll be staying right on the beach of the Caspian Sea, so enjoy the breeze as well as the Derbent night-life, as one of Russia's most unique cities.
Europe collides with Asia today in Derbent, as you experience a city that is unique not only in the Caucasus but in all of Europe.  Derbent lies at the crossroads of Europe/Asia, and was one of the stops on the Silk Road many centuries ago.  Locals say Derbent is 5,000 yrs. old!  Of course a visit here must include a stop at the ancient Naryn-Kala Fortress, a UNESCO site that overlooks the city and the sea, as well as one of the only Shia mosques in the North Caucasus, and Russia's oldest mosque, the Djuma Mosque.  Derbent is heavily populated by Lezgins, Tabasarans, and Azeris (from nearby Azerbaijan); make sure to check out the local selection of carpets and hand-made slippers hand-made by the Tabasaran people.  You'll have a great opportunity to try your hand at traditional carpet-making in your final master-class of the trip.  Tonight is your last night in Dagestan, so make sure to take a final dip in the Caspian Sea, and enjoy a stroll down one of Derbent's many beautiful streets!
You'll head up the Caspian Sea coast this morning to Makhachkala's airport for your departure back to Moscow and wherever you call home.  We hope your experience of Dagestan truly was delightful!  Now the rest of the North Caucasus awaits!
Talk to an Elbrus expert today:
Easy & Smooth Planning Process!
4 Steps to Your Perfect Trip:
What you'll see on the "Delightful Dagestan" tour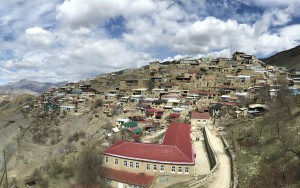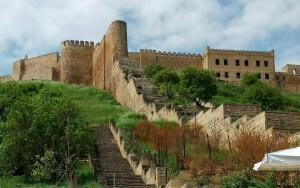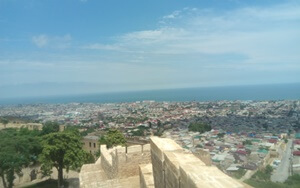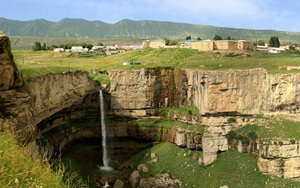 | Tour Level | 2 People | 3-4 People | 5-6 People |
| --- | --- | --- | --- |
| | | | |
* All prices are in US Dollars, per person.
For single rooms, a single supplement fee will be applied.
Contact us for larger group pricing.
Request a quote and start planning your authentic Dagestan trip with an expert now: