RUSSIA'S MUST-SEE CITIES! 10 DAYS / 9 NIGHTS:: 3/4/5 Star Options Available
The perfect first trip to Russia!
DAY 1: ARRIVAL IN ST. PETERSBURG
Welcome to Russia!  An English-speaking guide will meet you at the airport and get you settled safely into your hotel.  If you are up for it, you may have time to do some exploring on your own this evening, to take in the sights, sounds, and smells of St. Petersburg.  Regardless, have a great first night of sleep, and prepare for your trip of a lifetime!
After breakfast this morning, you'll start your epic Russia trip with a guided city tour visiting some of St. Petersburg's iconic architecture: the Peter and Paul Fortress, the Church on the Spilled Blood (outside tour) and St. Isaac's Cathedral (inside tour).  There is a memorable panoramic view of the city from the top of St. Isaac's Cathedral, if you're willing to climb all 300 stairs! Late afternoon you'll enjoy the city's canal system with a guided boat tour (private boat), reminding you why St. Petersburg is sometimes called the "Venice of the North." You'll have time to check out the famous St. Petersburg White Nights tonight, if you so choose.
Your time in St. Petersburg continues today with a full-day tour of the Hermitage Art Museum. We'll secure you hassle-free entry, bypassing the lines, in order to see some of the best displays before the crowds spill in. This is the 2nd-largest art museum in the world behind only the Louvre, and houses over 3 million paintings total!  You can get lost in the beauty of the art and sheer hugeness of the Hermitage complex, as there are 6 buildings total, including the Winter Palace.  We'd encourage you to attend one of Russia's famous ballet or opera performances, which we'd be happy to arrange for you. Following a memorable show you might want to take a long late evening stroll down the well-lit Nevsky Prospect, along with many other Russians enjoying St. Petersburg's long May days.
Today you'll explore one of Russia's most famous palace grounds from Imperial times, Catherine Palace & Park at the Tsar's Village.  It really feels like going back in time as you wander through these incredible grounds, the summer residence for Russian emperors.  Probably the most famous room in Catherine Palace is the Amber Room, where the art is carved out of amber.  This room has had quite the history:  gifted to Peter the Great from Prussia in the early 18th century, stolen during WWII (and disappeared completely), and restored in recent years.  You'll surely enjoy your lunches in St. Petersburg as well, as your guide helps you choose Russian favorites to satisfy your appetite:  borscht (beet soup), plov (rice dish), oliviye (veggie/egg salad), and more.  St. Petersburg is in the far north of Russia, so in May be prepared for a cool breeze to sweep in from the Baltic Sea!  Time permitting, you'll also spend some time in the afternoon at the Pavlovsk Palace and Parks, continuing to be wowed by the intricate architecture and beauty of Russian royalty's palaces from Imperial times.
Today you'll have another unforgettable St. Petersburg palace grounds experience, visiting the Peterhof Palace Grounds.  This ornate complex is best known for its spectacular fountains spread throughout the grounds.  It is a UNESCO World Heritage Site for obvious reasons, and nicknamed the "French Versailles".  By now, you have probably noticed the European influence on St. Petersburg architecture from the 18th and 19th centuries.  On your way back into the city from Peterhof, you'll visit the beautiful Faberge Museum, world-famous for its collection of works including the Imperial Easter Eggs.  It's your last night in St. Petersburg so make sure to soak in the magic of the White Nights!
This morning you'll board the high-speed train to Moscow.  Enjoy the view of the Russian countryside as it zooms by. After the 4-hour journey, you will arrive in Moscow and spend a 1/2 day touring this afternoon. You'll cover some of Moscow's highlights, starting with Red Square and the famous St. Basil's cathedral (outside) and its onion domes.  Standing in the middle of Red Square, you can't help but feel overwhelmed by the weight of both history and modernity surrounding you:  the Kremlin walls, Lenin's Tomb, Gum Mall.
As you adjust to the hustle and bustle of Moscow life, this morning you'll visit Tretyakov Art Gallery, which specializes in Russian art pieces, in contrast to the Hermitage's huge foreign collection in St. Petersburg.  Much of the collection dates to the Imperial, pre-Revolutionary times, all the way back to the 12th century! Your day will finish with a visit to Leo Tolstoy's Home Museum, paying homage to one of Russia's greatest ever writers.  Enjoy this evening in Moscow with an optional boat ride, a stroll down Arbat St., or a tasty dinner in one of Moscow's many fine dining establishments.
Today's tour starts with a guided tour inside the world-renowned Kremlin, seeing the Armory and its fascinating collection of national treasures.  This is the center of Russia in so many ways, and where President Putin works on a regular basis.   After lunch, you'll enjoy a guided tour of the world-famous Moscow metro, taking in some of the ornately-designed stations that still today resemble mini-underground palaces!  Then, you'll visit the Jewish Museum and Tolerance Center, said to be the largest Jewish museum in the world.  You'll be surprised at the rich history of Jewish influence in Russian society over the centuries.
It's your final full day in Russia!  You'll finish up your time with a meandering stroll through Moscow's world famous Space Museum, where you will see the space race through Soviet eyes and much more.  You'll also get to check out the nearby All-Russia Exhibition Grounds, built during Stalin's times, as a sort of display of the many economic achievements during that time.  It is a huge, beautiful territory that covers a rich amount of history and culture from the Soviet times to today.  Your tour will end in style as you are walked through Moscow's majestic Bolshoi Theater, the center of high culture in Russia's capital.  Consider attending this evening an amazing national folk dance show "Kostroma" (optional), telling Russia's history through song and dance.
You'll be transferred to the airport this morning for your flight home.  Thanks for visiting and experiencing just a drop of what Russia has to offer!
Talk to an Elbrus expert today:
Easy & Smooth Planning Process!
4 Steps to Your Perfect Trip:
What you'll see on the "Capitals of Russia" tour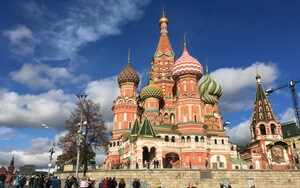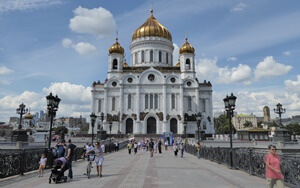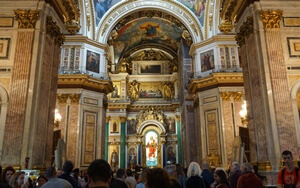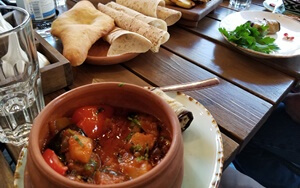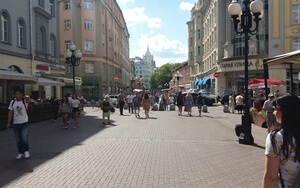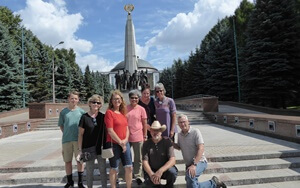 10 days of private transportation
9 Nights in Authentic Russian boutique hotels
English-speaking guide
Excursions
Breakfast
All Entrance Fees
Capitals of Russia Pricing
| Tour Level | 2 People | 3-4 People | 5-6 People |
| --- | --- | --- | --- |
| | | | |
| | | | |
| | | | |
| | | | |
* All prices are in US Dollars, per person, for High season (May to July). Inquire about discount for shoulder/low season.
* Inquire for quotes including 5+ star luxury hotels such as Lotte, Ritz Carlton, Four Seasons, etc
For single rooms, a single supplement fee will be applied.
Contact us for larger group pricing.
Request a quote and start planning your authentic Russia trip with an expert now: