MT. ELBRUS, CHECHNYA & MORE! 9 DAYS / 8 NIGHTS::3/4 Star Options Available
DAY 1: ARRIVAL IN NORTH CAUCASUS: PYATIGORSK
After flying into the Caucasus Mineral Waters airport (MRV), you'll make the quick 30-minute transfer to Pyatigorsk where you'll spend your first evening.  Your hotel is beside Pyatigorsk's beautiful Lenin Park, so make sure to take an evening stroll with the city's many residents in this scenic area.  Time permitting, we'll show you some of Pyatigorsk's old Health resorts, pre-dating back to the Soviet Union; make sure to take a dip in the local hot springs as well. If you're lucky, you'll be able to catch a glimpse of Mt. Elbrus in the distance at sunset!
Today is dedicated to Mt. Elbrus, the gem of the North Caucasus. After breakfast, you will ascend up 3 levels of cable cars to 14,000 feet (3,800 meters), base camp for Elbrus's aspiring mountaineers from all over the world. Even in the middle of the summer heat, you will want to dress warm, as it can snow at base camp in August. You won't want to rush today, as you soak in the majestic views of the Caucasus range all around you. Perhaps your time on the mountain will inspire you to return one day to climb it? After lunch check out the local markets to pick up a local souvenir. Or explore one of Elbrus' enchanting valleys with your guide by foot or by horseback. You'll find the scenery breathtaking.
DAY 3: NALCHIK & VLADIKAVKAZ
This morning you will leave the beautiful Elbrus region and head deeper into the North Caucasus.  You'll arrive in Nalchik, the capital of Kabardino-Balkaria, and learn more about Kabardian culture, while seeing a demonstration of how to use a Caucasus sword from 19th-century times, i.e. a shashka.  After lunch, you'll follow the Caucasus Mountain Range down the federal highway on the way to Vladikavkaz, the capital of North Ossetia.  Just 30 minutes from the border with Georgia, Vladikavkaz is one of the largest cities in the North Caucasus and is rich with culture/history, which you'll be sure to "feel" as you tour this old city. Vladikavkaz's diverse ethnic make-up will become clear quickly, as you pass different churches (Russian and Armenian) and mosques (Sunni and Shia) along the way. Consider trying the famous Ossetian pies for dinner tonight. Your guide will be sure to know where to find the best pies in town!
Hit the road again this morning with an excursion into Ossetia's beautiful corner of the Caucasus Mountains. Today you will cover an array of Caucasus historical and cultural sites: an ancient military fortress, a hidden-away monastery, the famous "Dargavs", or City of the Dead burial grounds, and unique Ossetian religious beliefs. If the skies are clear, you may even glimpse Mt. Kazbegi in the distance, one of Georgia's highest peaks.  You'll get in some good hiking today to the Midagrabin WaterFalls, Europe's top waterfall at the highest elevation!  After dinner, feel free to take the night off, or enjoy Vladikavkaz's night life scene in this far southern corner of Russia.
DAY 5: INGUSHETIA MOUNTAINS
This morning's drive may feel like you are going back in time, into a land that you didn't know still existed today. Welcome to Ingushetia, the "Land of the Towers". Up into the early 20th century, many Ingush families lived for centuries in their families' complexes of towers, which dot the landscape as far as the eye can see. Although uninhabited today, these tower complexes remain standing all over Ingushetia, turning an already beautiful land into something magical. You will rest well tonight after your ascent back into the mountains. You'll stay in the scenic Armkhi ski resort hotel tonight, nestled in the mountains less than 10 miles from the border with Georgia.
DAY 6: INGUSHETIA MOUNTAINS
If you enjoyed what you saw yesterday, today may be the highlight of your trip. We will spend the day exploring more of Ingushetia's untamed mountain landscape, visiting ancient sites along the way.  One of the most ancient churches in the Caucasus is located in Ingushetia, over 700 years old. For those with a camera and photographic eye, these two days in Ingushetia will be sure to capture your imagination as one of the world's most beautiful hidden regions. By now, you are probably also starting to grasp the diverse cultural and linguistic richness that inhabits the tiny North Caucasus: Balkars, Ossetians, Ingush, Russians, and many more. In the afternoon you'll make your way out of the mountains to the capital city of Ingusehtia, Magas, where you will spend the night. But, first, you'll have a tour of the Magas Tower Concord, which is a small museum of Ingush history and culture made in the style of a 100 meter war tower. After dinner take a stroll along the central walking street where crowds gather to enjoy the warm summer evenings.
Say goodbye to Ingushetia, as today you will enter yet another part of the North Caucasus, perhaps its most unique republic: Chechnya. The capital, Grozny, is very beautiful and safe, having been completely rebuilt after the wars of the 1990s and early 2000s, with more foreigners visiting every year. Chechens pride themselves on their hospitality towards guests, and so we are excited to introduce you to this land and people. Once you've arrived in the late morning, you'll have a city tour and acquaint yourself with the local Chechen customs and traditions. You'll spend time at Grozny's "Heart of Chechnya" mosque, the largest mosque in all of Europe. Prepare to be amazed by the exquisite designs of the domes from within, as well as the reverence with which worshipers come and go. It truly is an architectural masterpiece.
You'll hit the road again this morning, as you drive into Chechnya's corner of the Caucasus Mountains, to beautiful Lake Kezenoi-am, the largest lake in the North Caucasus.  Kezenoi-am's emerald colors and stunning mountain backdrop make for a memorable visit.  For the more adventurous, there's the option of riding the zip-line that runs across the lake. You'll also visit the ruins of the ancient Chechen village "Hoi" along the way. On the way back to the capital you'll visit the recently inaugurated "Pride of Muslims" mosque in Shali, a small town near Grozny. It is said that this is now the largest mosque in Europe. The marble-decorated building can hold up to 30,000 worshippers, and there is space for 70,000 more in its grounds. The white marble used in the construction came from the Greek island of Thassos. With its interior lighting, 8-meter crystal chandelier and gold decorated wall ornaments this mosque is an impressive piece of architecture.
Sadly, you'll be saying goodbye to the North Caucasus and Russia today. We hope it'll whet your appetite to come back again, to see more of all Russia has to offer! Fly out of the local Grozniy airport (GRV) and back to wherever you call home.
Talk to an Elbrus expert today:
Day 1 – Arrival to North Caucasus – Pyatigorsk
Day 2 – Mt. Elbrus
Day 3 – Nalchik and Vladikavkaz
Day 4 – North Ossetia
Day 5 – Ingushetia Mountains
Day 6 – Ingushetia Mountains
Day 7 – Grozny, Chechnya
Day 8 – Chechnya
Day 9 – Departure
9 Days Private Transportation
English speaking guide
8 Nights – Authentic Caucasus hotels
Breakfast
Lunches on Days 3,5,6
Dinner on Day 5
Excursions
Local Master Classes: Carpet-making, wood-working, pottery, etc.
All Entrance Fees
Easy & Smooth Planning Process!
4 Steps to Your Perfect Trip:
What you'll see on the "Heart of the Caucasus" tour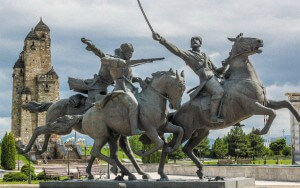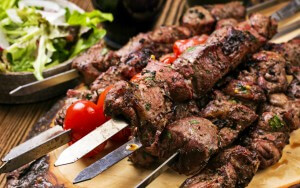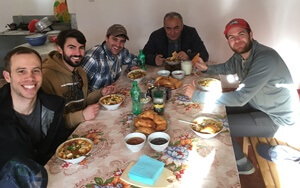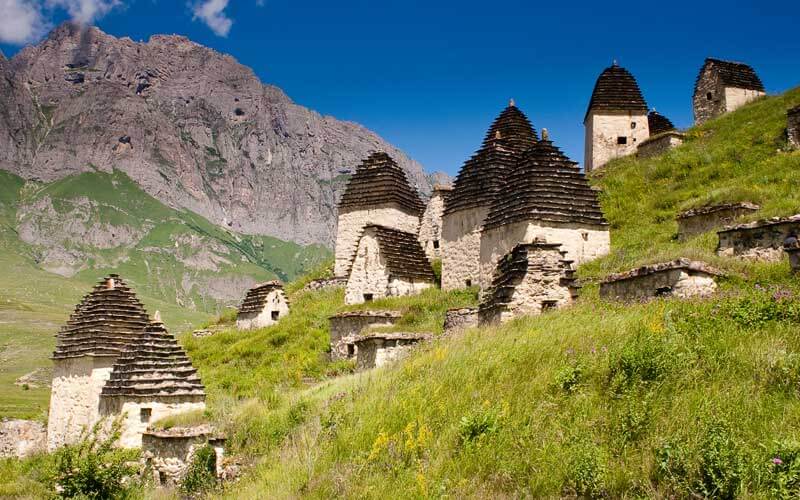 Heart of the Caucasus Pricing
| Tour Level | 2 People | 3-4 People | 5-6 People |
| --- | --- | --- | --- |
| | | | |
| | | | |
* All prices are in US Dollars, per person.
For single rooms, a single supplement fee will be applied.
Contact us for larger group pricing.
Request a quote and start planning your authentic Russia trip with an expert now: