In the already unique North Caucasus Mountains of Russia, the republic of North Ossetia stands out as one of the more (if not most) unique places to visit in this corner of the world. Consider this. North Ossetia is the only republic in the North Caucasus that:
-Has linguistic ties to Persia/Iran
-Where Islam is not the primary religion, and where traditional/pagan religion is still alive
-Home to the only road from Russia into the country of Georgia through the beautiful Caucasus Mountain range
And this is only the beginning. Interested yet? Keep reading for everything you need to know about visiting North Ossetia!
1. How do I get there?
North Ossetia has a fascinating geographical location, at the far southern tip of Russia, on the border with the country of Georgia. There are multiple ways to get there, all of which can turn into a memorable adventure!
A. Plane – The most common way that foreigners travel to North Ossetia is by plane. There is a regional airport outside of the capital Vladikavkaz in Beslan, airport code OGZ. This airport is small and older but the location is fantastic for those wanting to fly direct to North Ossetia or nearby Ingushetia. The views of the Caucasus Mountain range upon descent are without question some of the most beautiful you will have when flying within Russia. OGZ has daily flights to/from Moscow as well as multiple weekly flights to/from St. Petersburg. Currently there are no international flights in/out of North Ossetia, but you could take a 2 hr. taxi to Grozny (Chechnya) or 3.5 hr. taxi to Mineralni Vodi if wanting to fly internationally to/from Istanbul, Dubai, etc.
B. Car – North Ossetia has many intriguing entry points by car. From the north and east, you can enter the republic by federal highways from Kabardino-Balkaria and Ingushetia. Because of the history of the nearby Chechen Wars in the 1990s and 2000s, the security presence at the federal checkpoints between republics is still pretty strong, so don't be surprised at this. As long as your documents are in order (visa, registration, etc.), all should be well. Last but definitely not least, you can drive directly into North Ossetia from the southern Russian border with Georgia. The road on both sides of the border is understandably scenic as this "Georgian military highway" cuts directly through the heart of the Caucasus Mountains. Depending on the time of year, leaving or entering Russia via this border can be very quick or excruciatingly long, so do your best to plan for this:
-November – April – The border is closed intermittently due to danger of snowfall/avalanche in the mountain passes. We don't recommend trying to cross the border in these months as a result.
-June-August – These are the busiest months at the border as many Russians and Armenians are traveling to Georgia for vacation or Armenia to see family. Expect 5-6 hr. waits at each side of the border or longer.
-May, September-October – These are traditionally the best times of year to cross the border as Russian school is in session and as a result there are much shorter lines at the border.
One thing to note. If you would like to visit Georgia while you are in North Ossetia, and then travel back into Russia, make sure that you have a double-entry or multi-entry visa. If you have a single-entry tourist visa and cross the border to Georgia, you won't be let back in to Russia!
C. Train – Traveling by train in Russia is always an adventure and sometimes can offer the most convenient options with overnight routes, etc. Vladikavkaz has regular bi-weekly routes to/from Moscow, St. Petersburg, and Sochi, among other options, so there is no shortage of trains to take there.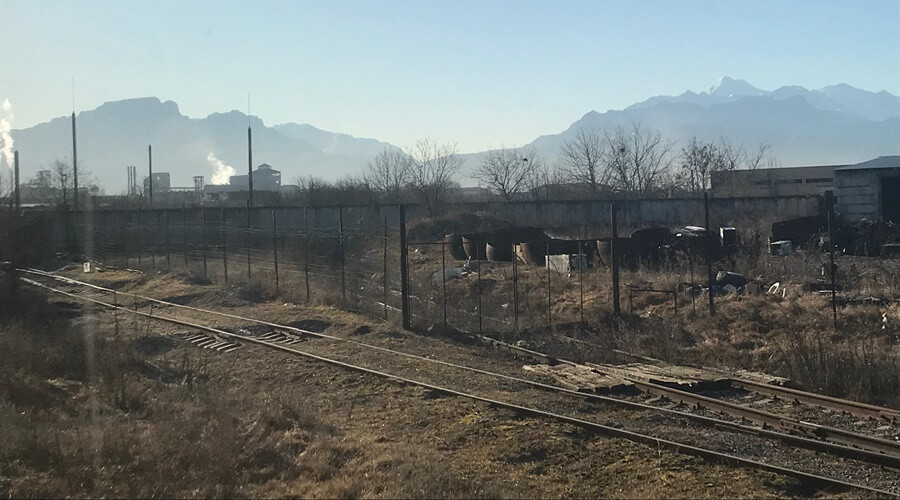 All of these trains go through Mineralni Vodi, one of the main transportation hubs of the region, and so one can always travel to Mineralni Vodi/Pyatigorsk and then catch a 3.5/4 hr. train the rest of the way to North Ossetia. The city of Beslan is also a stop on these routes, and is right beside the Ingushetia border, so also provides easy access to this republic as well.
2. Where should I stay?
North Ossetia is very similar to Kabardino-Balkaria in that its capital gives great access to its five mountain gorges, without ever having to spend a night away from the capital if you don't want to. That being said, North Ossetia has some of the nicest mountain hotels in the region outside of Mt. Elbrus, so there is something for everyone.
A. Vladikavkaz – The capital of North Ossetia is the second-largest city in the North Caucasus (behind Makhachkala, Dagestan) and understandably, has great hotels for visitors to choose from. Our top recommendations are:
-4-star – Luxury and comfort – Aleksandrovski Grand Hotel – This is one of the true boutique hotels in the North Caucasus, with a delicious in-house restaurant as well as ideal location on Prospect Mira, Vladikavkaz's historic pedestrian street. This hotel has limited capacity so book in advance!
-3-star – Affordable and unique – Hotel Imperial (historic and great location on pedestrian street), Hotel Vladikavkaz (central location on Terek River beside central mosque), Planeta Lux
B. Mountain Hotels:
–Tana Park Hotel in Digor Valley – This new 4-star hotel will not disappoint you with its services and surrounding views!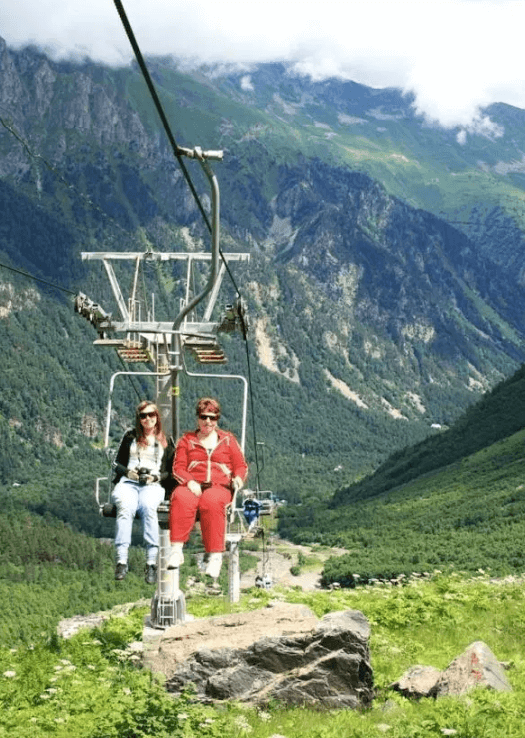 –Vertikal Hotel at Tsei Ski Resort in Alagir Valley – North Ossetia's modest ski resort is a great spot to visit in any season, with its Soviet-style chair lifts that take you straight up to the mountains.
–Fiagdon Art Hotel in Kurtatinskoe Valley – Very unique in its design, very comfortable to stay at!
3. What are the top cities to visit in North Ossetia?
Without a doubt, Vladikavkaz is a must-visit if traveling to Ingushetia. Because of its proximity to the mountains, you could stay in the same hotel/apartment in Vladikavkaz your entire visit, do day trips into different mountain gorges, and explore the Vladikavkaz night scene each evening. There are plenty of diverse restaurants, beautiful parks, historical districts, museums, and other landmarks worth visiting in Vladikavkaz, always with the incredible mountain backdrop visible to the south. Outside of Vladikavkaz, many foreigners know Beslan, where over 160 children died in a tragic terrorist attack in 2004. There is a large memorial to those who lost their lives if you want to pay your respects in Beslan. Northwest of Vladikavkaz, there is the town of Alagir, which you may also stop in on your way to Alagirskoe Valley.
4. What is the best local food to try?
The best-known food coming out of North Ossetia is "Ossetian pie", or pirogi, which you can find in restaurants all over Russia. This dish is a meal in and of itself, with a pizza-like dough on the outside, filled with any combination of meat, potatoes, cheese, pumpkin, and greens, and then baked to perfection. You'll definitely have leftovers to finish off the next day at breakfast. 🙂 Many Ossetian traditions center around the pie, so be sure to ask locals about the role it plays in their history and society!
A second local food to try is dzykka (dzee-KAH), which is cheese boiled w/ flour. Prepare to be filled up on carbohydrates while here. 🙂
5. What are the best hole-in-the-wall restaurants?
With a population of over 300,000, Vladikavkaz has a huge number of restaurants to choose from, as you'll notice on the main strips and walking areas. For more familiar food in a European style, try Americano Restaurant in the historic district. For a more authentic, local feel, visit Fishimta Restaurant (Фысым). Typically in the Caucasus, the more off-the-beaten-path you get with restaurants and cafes, the quality of customer service will decrease but the uniqueness of the experience will increase. Manage your expectations but enjoy the food! 🙂
6. What are the top 3 must-see tourist attractions?
A. North Ossetia's calling card is Dargavs, or the "City of the Dead." Located about 1 hr. 15 minutes from Vladikavkaz in Karmadonski Gorge, Dargavs is the North Caucasus' largest complex of burial crypts, dating from the 14th-18th centuries. Walking through this complex and even peering inside the crypts is quite surreal. The location itself is very picturesque and serene, and can evoke quite the range of emotions, especially on a foggy day!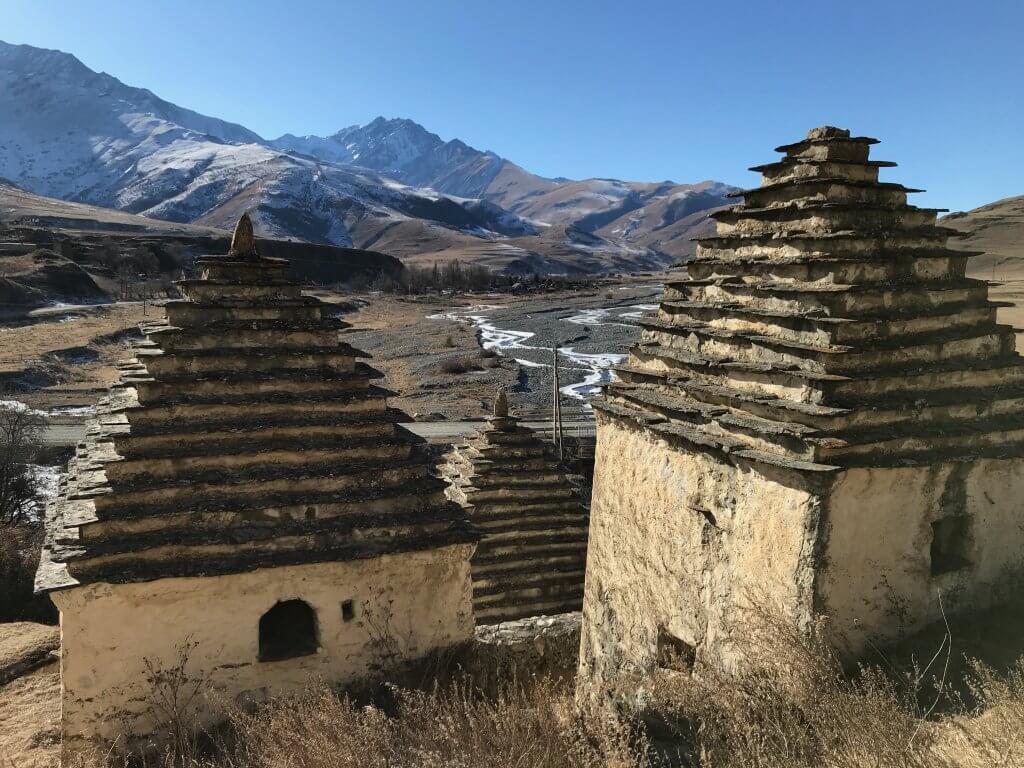 Dargavs is probably one of the top 5 Instagrammed locations in the entire North Caucasus region.. If you have a drone, this is the place to get some unforgettable footage from above!
B. Midagrabin Waterfalls – Located less than 45 minutes from Dargavs, Midagrabin Waterfalls is Europe's highest waterfall (i.e. located at the highest elevation), nestled deep in the mountains. In fact, it's so close to the Georgia border that foreigners can't visit here without a border pass from North Ossetia's Border Patrol (see question #8 for details how to obtain these). The waterfall is a short hike from the overpass road and water flow is best June-August when the glaciers are melting each summer. The overpass will take you from Karmadonskoe Gorge to Fiagdonskoe Gorge, and so you can see quite a lot both to and from the waterfall!
C. Vladikavkaz – As already mentioned, Vladikavkaz is truly a unique city in the North Caucasus, from its unique Ossetian feel to its proximity to the mountains, as a start. There is much to see in the city, starting with different religious confessions, as you can visit the central Shia mosque, one of the beautiful Orthodox churches, or a shrine for the traditional/pagan Ossetian religion. Ossetians also take pride in their mythological literature aka the Nart Sagas, and there are multiple statues and locations around the city where you can learn more about this history. Vladikavkaz's closeness to the mountains not only affords you the chance to do day trips into North Ossetia's five mountain gorges, but also is a great location to visit neighboring Ingushetia from.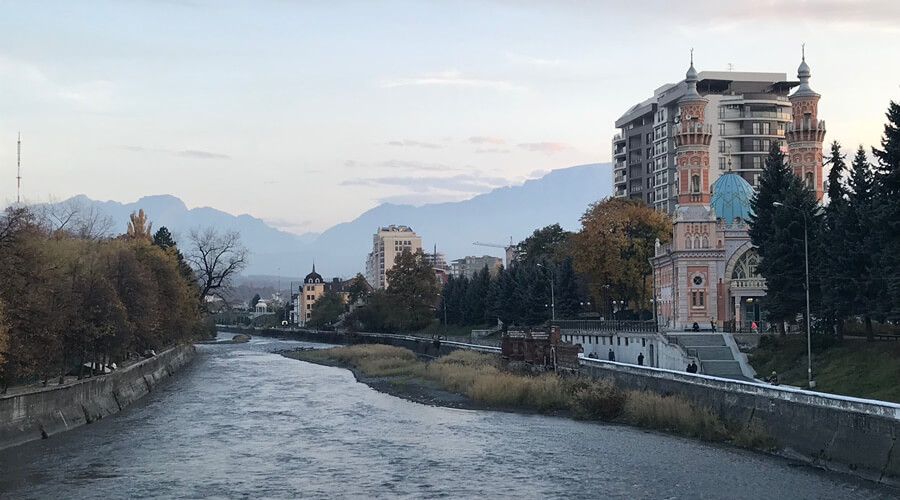 Ingushetia's capital Magas is just 35 minutes away, and the border zone into Ingushetia's mountains, home of its famous towers, is actually just 20 minutes outside of Vladikavkaz, right on the way to the Georgia border! ***See point 8 about acquiring a permit to Ingushetia's border zone. Because of Vladikavkaz's size, there are many hotels available as well as quality Air Bnb apartments to rent.
7. What are two off-the-beaten-path tourist destinations?
Many of the Caucasus peoples embraced pagan religions before adopting Islam or Christianity, but the Ossetians are the only nation where its traditional/pagan religion is still being practiced today. Here are four important holy sites/shrines, or "dzaurs", where traditional/pagan rituals are observed at holidays and throughout the year:
A. Rekom Shrine in Tsei Valley
B. Khetag Shrine in the the Alagir Region
C. Tarandjelos Shrine in Trusovskii Valley
D. Mykalgabyrta Shrine in Alagir Valley
You can learn more about North Ossetia's religious history while also enjoying the incredible, surrounding mountain beauty!
Second, for the more active traveler, head to Ossetia's northwestern corner to do some trekking in Digor Valley. Right on the border with Kabardino-Balkaria, the views here are stunning and far-removed from the hustle and bustle of Vladikavkaz. You'll find ancient tower complexes, burial crypts, glaciers, and remote villages as you explore this untouched corner of the Caucasus. This end of the Digor Valley DOES require a border pass so don't take any chances and secure this pass before heading to the mountains!
8. Where do you need a border zone pass to in North Ossetia?
For those not familiar with the "border zone", there are two very important points to make in regards to North Ossetia. ONE, the border zone is the part of Russia's border with neighboring countries (specifically in the mountains) that is heavily guarded; foreign travelers ARE allowed in BUT only with special permission. You CANNOT go to the border zone in North Ossetia WITHOUT a special permit, that is acquired in advance from North Ossetia's Security Services. This permit typically should be applied for at least 60 days in advance, in coordination with a tour agency or guide. We can help you receive one of these permits. DO NOT attempt to travel into the border zone without this special permit, even if a local friend encourages you that they'll handle it for you; you will have serious problems! TWO, it IS worth the time to acquire! This is where some of the most beautiful parts of North Ossetia reside, including Midagrabin Waterfalls between Karmadonskoe and Fiagdonskoe Gorges, and Karaugom Glacier in Digor Valley.
Ingushetia's border zone (home to its beautiful towers) are only 20 minutes from Vladikavkaz. BUT you must acquire a border permit from Ingushetia's security services to visit this area. Same rules of applying 60 days in advance and with the help of a tour agency apply. The autonomous republic of South Ossetia also borders North Ossetia and CAN be visited from North Ossetia BUT you must also receive special permission to visit here, also to be applied for 60 days in advance. If you're wanting to visit South Ossetia or Georgia, and then re-enter Russia/North Ossetia, you MUST have a double-entry or multiple-entry visa for this to be possible. South Ossetia can only be entered via North Ossetia/Russia; there is no entry point from Georgia.
9. Any culture-specific things we need to know about customs, dress, religion, etc.?
North Ossetia is much more secular and Westernized compared to neighboring Ingushetia and Chechnya, as you'll be sure to notice. As a result, there isn't quite as strict of a dress code here. On the other hand, this republic is still very much a place with traditional Caucasus values of modesty and propriety valued in public; in light of this, we recommend leaning more towards conservative dress. As in any place you're visiting, remind yourself that you are a guest and have an attitude of learning and respect towards those you meet and the things you encounter. You're sure to have a fantastic experience visiting North Ossetia!
Audio version of this blog with an experienced guide in North Ossetia:
Travel Tips: North Ossetia! Vladikavkaz | Dargavs | Midagrabin Falls | Ossetian Pies!
Podcast Interviews about the History, Culture, and Traditions of North Ossetia:
– Ossetian History, Culture, and Traditions – Part 1
– Ossetian History, Culture, and Traditions – Part 2
– The History of the Nart Sagas