They say that good things come in small packages.  This is definitely the case with Ingushetia!  Despite being Russia's smallest state, Ingushetia is well-worth a visit for its beautiful mountain landscapes, ancient towers, and unique cultural traditions.  Keep reading for practical details on how to visit this hidden gem of the North Caucasus, including access to an exclusive travel guide for the independent traveler!
1. How do I get there?
Even though you may have never heard of Ingushetia, that doesn't mean it's difficult to get to.  Actually, you may find yourself overwhelmed at the number of ways you can travel there!
A.  Plane – There are daily direct flights from Moscow to Magas's IGT airport (Ingushetia), the North Caucasus' newest airport.  Another nearby option is the OGZ airport in Beslan/Vladikavkaz (North Ossetia), just a 20-minute drive from Ingushetia's capital.  The Grozny airport (Chechnya) is just 1 hr. from the Ingushetia border as a third option.  Of course flying into another regional airport and traveling through the region works as well, such as MCX in Dagestan or MRV in Stavropol Krai.  There are also weekly international flights from Istanbul, Turkey, to Grozny (GRV) and Beslan (OGZ), as well as other occasional destinations (Dubai, etc.).  
B. Car/Public Transport/Taxi – Ingushetia is not only accessible via neighboring republics, but also from neighboring countries, i.e. Georgia!  If you are traveling by car/bus from Armenia/Georgia through the Caucasus Mountains into Russia, the capital of Ingushetia is less than one hr. from the Georgia border.  If you have a border pass and want to visit Ingushetia's tower complexes in the mountains, this checkpoint is literally just 10-15 minutes from the Georgia/Russia border.
Public transport runs daily to Nazran/Magas, the joint capital cities of Ingushetia, from the following cities in the Caucasus: Vladikavkaz, Nalchik, Pyatigorsk, and Grozny.  If you have your own car, then of course you can take major highways to Ingushetia from Chechnya to the east, or from Kabardino-Balkaria/North Ossetia from the North.  And of course taking a taxi from pretty much anywhere can get you to Ingushetia.
C.  Train – Last, but definitely not least, is the infamous Russian overnight train as a travel option.  Trains run twice a week from Moscow to Nazran (with stops along the way, including in Mineralni Vodi at the edge of the region).  There are also daily trains to neighboring North Ossetia (Beslan/Vladikavkaz), that one can also take (from Mineralni Vodi or Moscow), and jump in a taxi for the short remainder of the drive to Ingushetia.
2.  What are the best places to stay?
Because Ingushetia is such a small republic, lodging options actually are very limited within the republic.  Here are our recommendations:
A. Magas – This city stakes claim to being the world's "newest" capital city, with construction only beginning in 1994 (Nazran was the former capital).  Magas is shiny and new and accordingly, has several nice hotels for you to choose from:  the 4-star Artis Plaza Hotel, and the 3-star Business Hotel.  Both are on the main strip of Magas and within walking distance of all the main sights of this quaint new city.
B.  Nazran – While no longer the capital of Ingushetia, Nazran remains the heartbeat of the region, with more than 1/3 of the republic's population living here (100,000+).  You'll find more economic lodging options here, with the 2-star Assa Hotel and its fantastic views of the looming Caucasus Mountain range, as well as a hostel for those wanting an authentic Ingush hostel experience (no English!), at Beyni Guest House.
C.  Border Zone Lodging – We'll address HOW to visit Ingushetia's border zone in point #8, so make sure to read to the end.  That being said, there are two main options for accommodations in Ingushetia's border zone, i.e. its mountains: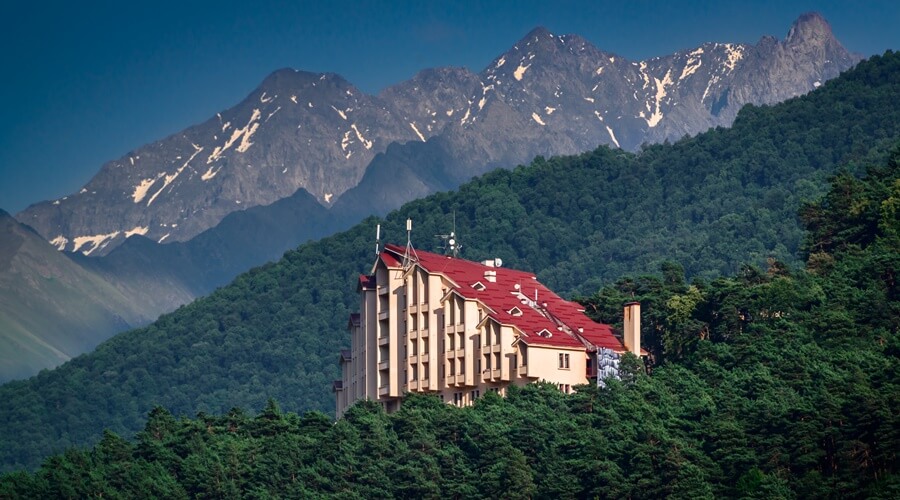 Armkhi Resort – This is a 2/3-star resort hotel complex, where most international travelers stay on their visit to Ingushetia's mountains.  Armkhi also has houses for rent for larger parties, as an option.  This hotel is just a 25-minute drive from the border zone entry point on the North Ossetia/Vladikavkaz side. Instagram handle @armkhi
Legends of the Mountains Hostel (Legendi Gor) – If you're traveling with a local friend or guide, or on more of a budget, the Legendi Gor hostel is a great, local option to overnight in.  Right in the middle of the mountains, this hostel is known as the home of Russia's Basejumping Club, because of its location directly across from the huge Tsei-Loam rock face, from which these extreme athletes jump from every year.  This hostel provides simple rooms with two bunks, WiFi, and authentic Ingush food year-round, with a remote location that can't be beat.  This is your best option to see locals spontaneously dancing the Lezginka late at night!  Instagram handle @legendi_gor.
3.  Top cities to visit?
As already mentioned, Ingushetia is a very small republic, with only around 300,000 residents.  There are officially only 5 cities in the entire republic (!), with the rest of the population living in small towns and villages.  With most of the highlights of Ingushetia being in the mountains, we recommend you limit your time in the main cities of Magas and Nazran, to 2 days max (often 1 day can suffice), and then head to the mountains to see the towers.  If you do have a local friend from one of Ingushetia's smaller cities or towns/villages, then definitely take the time to visit their family in their home, to experience Ingushetia's famous hospitality, one of its most charming qualities.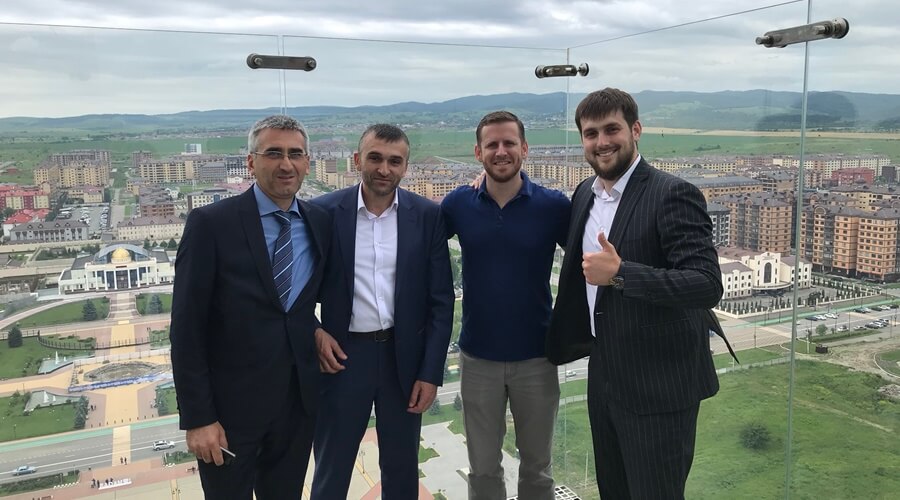 This is the big advantage of the cities, that you'll interact more with the local population, as the mountains are more sparsely populated. 
4.  Best local foods to try?
As with every Caucasus nationality, the Ingush have their own national dishes that are staples of everyday life.  And as you'll find all over the Caucasus, the Ingush love carbs! 🙂  Here are three must-try local foods:
A. Chapilgush – This is the Ingush version of flat bread with cottage cheese filling.  No meal in Ingushetia is complete without a steaming plate of chapilgush in front of you. 🙂  You'll love the first couple servings of this buttery dish but by serving #5 or #6 will wonder if you have any room in your stomach left!
B.  Hingalsh – While this dish looks similar to chapilgush with its flat bread form, the secret is in the filling with hingalsh…..pumpkin!  This is truly unique among Caucasus dishes, and can be a nice, sweet reprieve from the heavier cheese- or potato-filled alternatives.
C.  Shashlik – Of course, no matter where you travel in the North Caucasus, you have to try the national food of the region, shashlik, or shish kabobs.  Because the Ingush are a conservative Muslim people, you won't find any pork shashlik here, so go all in on lamb kabobs!  Chicken kabobs are also very tasty.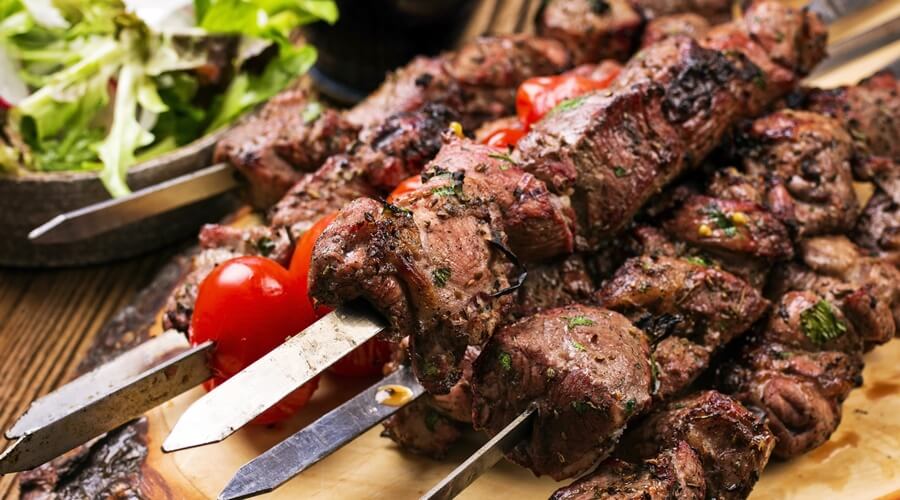 Just $7.50 to unlock the complete Travel Guide to Ingushetia!
Did you enjoy what you've read so far?  It's just the tip of the iceberg.  We have put together a one-of-a-kind digital travel guide to Ingushetia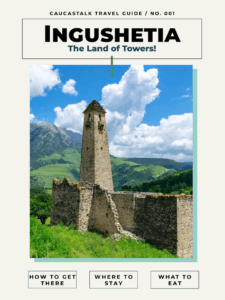 with the best insider tips to exploring this beautiful land, including:
-Authentic hole-in-the-wall restaurants,
–Top must-see tourist destinations
-The best off-the-beaten-track sites
–How to get special access to visit the border zone and its beautiful towers
-Savvy tips for dress code and cultural norms

-Booking links
-Podcast episodes with local experts, and more!  
Click here to purchase your digital Travel Guide to Ingushetia for only $7.50!