***Article written by Kevin Abernethy from the USA, avid mountain climber and adventurer
Any climbers pursuing the goal of climbing the Seven Summits will find themselves traveling to regions of the world they may have never previously heard of, let alone thought about traveling to. Although there is no mandated order in which the Seven Summits must be climbed, many climbers elect to start with Africa's Mt. Kilimanjaro based on its relative ease of accessibility and the mountain's reputation for being the "easiest" of the seven summits. Following a successful summit of Kilimanjaro, most climbers will likely select Europe's highest peak, Mt. Elbrus, or Aconcagua (South America) for their second summit.
I am currently working on my own quest to climb the seven summits. I summited Kilimanjaro in September 2017 and made it to the top of Mt. Elbrus in July 2018. I hope by comparing the two peaks and giving my own perspective, future climbers may benefit from my experiences as they plan their own Seven Summit expeditions.
So how does Mt. Kilimanjaro compare with Mt. Elbrus? In short, they are two very different experiences and different types of mountains.
1 – Pre-Trip Planning:
A) Kilimanjaro – Mt. Kilimanjaro is the highest peak in Africa and is located in northern Tanzania near the Kenya border. Although Kilimanjaro is not a technical mountain, it should not be underestimated in terms of difficulty. The fact that Kilimanjaro National Park reports an overall summit success rate for climbers to be less than 50% annually, suggests that this is not an "easy" mountain. This low success rate can likely be attributed to climbers underestimating the peak and not allowing time for adequate acclimatization.
There are hundreds of guide companies on Kilimanjaro and the internet is full of detailed reviews. The shear number of climbers and trekkers that visit Kilimanjaro each year results in so many YouTube videos and online trail descriptions that you can get a very detailed understanding of what you are signing up for. In addition to the wide availability of information, there is little reason to be concerned about personal safety while visiting Tanzania, as all the tour companies have done a good job at promoting the area and addressing concerns foreigners may have about coming to east Africa.

All climbers on Kilimanjaro must have a local guide and permit to climb the mountain. There are many guide companies in the area and prices will vary greatly. Although some travelers may wait until they are in Tanzania to hire a guide company, I found it worked better to have a guide company selected and paid for well in advance of my trip. Once you have selected a guide company, you will need to determine the route you would like to climb for your summit attempt.
There are seven well-established routes leading to the summit of Kilimanjaro. Routes vary in the number of days required and each route has its own set of advantages and disadvantages. The Marangu route, also known as the "Coca-Cola" route, is one of the more popular options, and boasts the shortest required amount of time with climbers being able to make it to the summit in as few as five days. Unfortunately, many climbers are not able to acclimatize adequately with such a fast ascent and so this route also has one of the lowest success rates. On my climb, we selected the Machame route and made it to the summit in six days; (many guide companies will recommend seven days for this route, but our group was made up entirely of healthy men each in our 30's, so we felt confident we could shave off a day).
B) Elbrus – Mount Elbrus is an entirely different experience that you will feel as you begin your planning. As you begin your search for a reputable guide company, you'll quickly realize there are a lot fewer companies guiding on Elbrus than on Kili, and most companies you find will have a limited number of reviews. In addition to this, several local guide companies' websites seem to utilize a direct Russian-to-English cut-and-paste from Google translate, which leaves you wondering if the "English speaking guide" the company claims to have will actually be able to speak English. The exception to these companies is if you choose a trip with one of the well-known US-based companies. The US guide companies' websites are helpful but plan to pay a higher price if you book a trip through them compared to a local Russian-based company.
Getting a Russian visa will take time and effort, so plan ahead and start early! It is best to hire a third-party visa company to help facilitate this process. Third-party companies can also help guide you on how to complete the visa application (***Note: Beyond Red Square has its own personal visa processing partner who can simplify this process for climbers).
At some point while working through the logistics of finding a guide company, you are likely to come across one of the many government warnings about visiting the Caucasus region and specifically Mount Elbrus. This was a major concern for me and I did a lot of research to better understand the situation on the ground in the region prior to taking my trip. I spoke with several people that had either visited the area or were living there at the time of my trip and all I heard was positive reviews that did not jive with what the government pages said. Ultimately I had to make the decision that I felt good about moving forward with the trip, though I still had some minor reservations as I boarded my flight to Russia (Read our blog "Is the drive to Mt. Elbrus safe?")
2. International Travel & Arrival
A) Kilimanjaro – To get to Kilimanjaro most climbers will fly into Kilimanjaro International Airport in Arusha, Tanzania. The airport is convenient and has direct flights from Amsterdam. You (or your guide company) will need to arrange transportation to Moshi and your selected trail head. Customs is straight forward with a visa obtained on arrival at the airport. Your guide will arrange all mountain permits and ensure the group is signed in at each camp.

Once you have chosen a guide company and selected a route, it's time to weigh your equipment/gear in order to determine the number of porters you will be required to hire; your guide will provide you with the maximum weight each porter will be asked to carry. Once all of this is settled, you are ready to start your ascent!
The parking lot near the gates of Kilimanjaro is an incredible scene. There are people everywhere: climbers, guides, cooks, tour organizers, official representatives of the national park, and porters. Some of these porters have already secured a job and they are packing equipment and securing loads. There is another large group of porters that are not permitted into the parking lot, standing outside the gates trying to get companies and climbers to hire them. You'll hear different languages and accents spoken all around.
B) Elbrus – We flew from JFK to Moscow on Russia's Aeroflot airlines and found the experience to be much better than expected. After getting through customs in Moscow, we transferred to the domestic flight section of the airport and continued on another Aeroflot flight to the Mineralni Vody (MRV) airport. Again, this experience was much better than expected; the airplane was nice and the customer service was good. I had heard horror stories of people having a difficult time at the Mineralni Vody airport and being asked for bribes by immigrations so I was on my guard as we departed our flight. My actual experience could not have been smoother. Having flown in from Moscow (i.e. not an international flight), I had zero interactions with the Mineral Vody immigrations and walked straight from my flight, to baggage claim, and out to the parking lot. So far Russian travel was proving to be no more difficult than US domestic travel.
We met our guide at the airport and began the 3.5 hour drive to our hotel near Mount Elbrus. The drive is long but mostly uneventful as you travel through the Russian countryside towards the mountains. While not on the mountain we stayed in Cheget village. The town of Cheget has some little shops and is walking distance to the slightly larger town of Terskol. This area also has some good locations for day hikes to help with acclimatization. It was on one of these hikes that we got our first glimpse of Elbrus in the distance.
3. Acclimatization Process
A) Kilimanjaro – On Kilimanjaro, you will not be responsible for carrying the vast majority of your gear; thus the reason for all the porters. You'll be asked to clearly label your duffel bag with your name and before you know it, a porter you have never met or spoken to will grab your bag and head up the mountain. At this point, you are just praying that somehow through all the confusion you will see your bag again. In light of this, the porters on Kilimanjaro are amazing!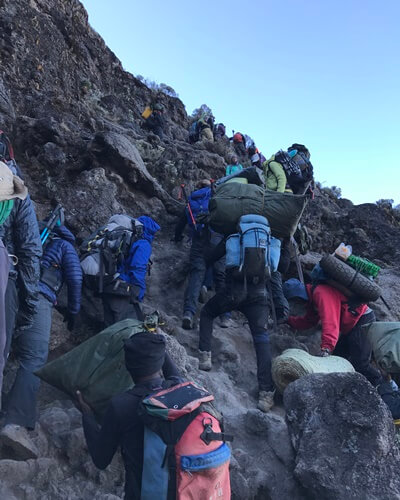 While you are asked to carry a simple day pack to cover your immediate needs, your porters will carry all tents, cookware, a toilet (yes, a toilet), chairs, full-size tables, lamps, water, all your food, and any other awkward or heavy items you opted to bring. Keep this in mind when you are planning what to bring. SOMEONE is going to be carrying everything you bring. That means someone is going to carry your load up a steep, difficult, high altitude trail and they will do it at a pace that far exceeds any pace you will be walking.
There are five eco zones on Kilimanjaro. Basically you begin in a sweltering jungle and end up in a freezing arctic zone by the time you are on the summit. Each night on the mountain you sleep in a different camp as you steadily move up the mountain. Your porters will move faster than you and each day when you arrive at camp, you will find your tent set up and you will have a cook ready to prepare you dinner. Some nights the dinners are great, and other nights, well… you'll be glad you packed some other snacks from home. 🙂 The porters will also provide you with a clean water source each night, so you will want to fill up your bottles for the next day.
B) Elbrus – After spending Days 1 & 2 at the base of Elbrus in a hotel (2,400 meters above sea level) and doing some acclimatization hikes, you'll start off Day 3 riding a series a ski gondolas that will transport you up the mountain to around 3,800 meters. This is Elbrus base camp and your home for the next few days. Most climbers will spend three days at this elevation allowing their body to acclimate, before attempting to summit. The time is valuable and needed for a successful summit. I chose to use diamox while on the climb, (an altitude sickness medicine that requires a prescription), and I found this to be helpful.
During our time acclimatizing we spent one ½ day hiking up to the Pastukhov Rocks (4,800 meters) followed by a hike back down to basecamp. Lodging at base camp is in the infamous "huts", some of which are actually shaped like oil barrel containers. Other facilities resemble summer-camp cabins or shipping containers (where we stayed). There is also the VIP hut Leaprus for those wanting ultimate comfort at 3,900 meters above sea level!
***Note: There are NO porters at Mt. Elbrus. Instead, you will take light day packs each day for acclimatization hikes, while the rest of your gear and things stay in your hotel on Days 1-2 and at the base camp barrel huts on Days 3-6. You will transport your gear up to base camp using Elbrus's enclosed ski lift gondolas.

4. Summit Day Climb
A) Kilimanjaro – Summit day you will leave your tent around midnight and begin your hike into the cold African night. Most porters do not go to the summit, so it will likely just be your group and a few guides, along with all the other climbers making their way to the top. The night is very cold and seems to be endless. Somewhere around 3:00 am I looked up and became very discouraged when I realized how far the summit still was. I found the best solution was to pick a milestone (a rock, turn, etc) a few hundred meters ahead and focus on nothing but that. I would tell myself, "I only have to get to that rock", and then once I was there, I would immediately select my next milestone ahead and continue the process; this went on for hours. Finally somewhere around 5:30 am the sky started to lighten and the freezing night began to come to an end.
Our guide told us we were about 40 minutes to Stella Point, which is the first spot you will come to at the rim of the mountain peak(5685 meters). When we reached Stella Point the sun was rising and all doubts of not reaching the summit were washed away. From there it was just another 40 minutes of slowly, painfully, walking uphill to Uhuru Peak, the Roof of Africa! The Summit of Kilimanjaro is broad and has dozens of climbing teams all lining up to get the coveted photo next to Summit of Kilimanjaro sign. After just a few minutes on top, you begin the long hike back down to your tent at high camp. The hike down is long and you are exhausted but with each step the air gets thicker and you steadily begin to feel stronger. Most people will spend just one more night on the mountain as they make their way back to the base. Once off the mountain, the thing the thing I craved most was a hot shower and clean change of clothes. These luxuries were readily enjoyed upon arrival at our hotel back in Arusha.
Watch YouTube recap of Kevin's Kilimanjaro trip and successful summit from start to finish.
B) Elbrus – The night before summit day you will be given the option to "book" a snowcat that will carry you back to the Pastukhov rocks (4,800 meters) to give you a jumpstart on your climb. There are a lot of opinions on using the snowcats (snow tanks or snowmobiles), and ultimately everyone will need to decide what makes sense for themselves. If you do decide to take a snowcat, you will need to pay the driver in cash (rubles).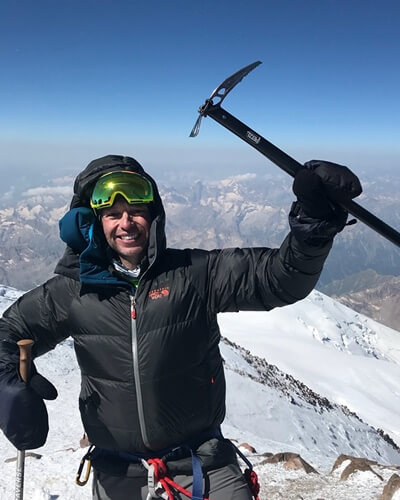 The time you begin your summit ascent will depend on if you are utilizing a snowcat or not (typically between 1:00-3:00 am). The climb to the Pastukhov Rocks is relatively straightforward and is mostly just a long (somewhat boring) walk uphill through the slush and snow. After the rocks, there is a steep section until you change direction and head into the saddle. At this point the sun is starting to come up and the best parts of the climb begins. There is a fixed rope going up from the saddle to the summit. You will want to clip in and have your ice axe ready as this area is icy. You will slowly move upward towards the summit, needing to stop and re-clip in, every time the fixed line comes to an anchor point. When you are almost to the top, the fixed line will end and you will walk the last 15 minutes to the summit unprotected.
The summit of Elbrus is a much smaller surface area that Kilimanjaro, with room for no more than 15-20 climbers at a time. The wind at the top is intense and the air frigid. After a quick celebration, we snapped some quick photos (being careful to not let my glove blow away) and then it was time to head down. The climb down to basecamp takes significantly less time, and similar to Kilimanjaro, the air gets thicker and easier to breathe with every step. Once back at the base of the mountain you will be ready to shower, change your clothes and enjoy the other sites Russia has to offer.
Watch a YouTube recap of Kevin's Elbrus trip and successful summit from start to finish
5. Post-Climb Highlights
A) Kilimanjaro – Post Kilimanjaro-climb, the thing to do while in east Africa is Safari! Safaris range from just a few days to weeks, and are definitely worth fitting into your itinerary. Following our Kili success, we opted for a 2-day safari which I thought was just the right amount of time. Seeing African animals in the wild is an amazing experience, but after 2 full days, the excitement you feel when you see a wild elephant starts to subside.
We spent our two days at the Tarangire National Park and at the Ngorongoro Conservations Area with our overnight at the very nice Ngorongoro Wildlife Lodge. Following our second day of safari, we went back to the Kilimanjaro International Airport and began our long trip back home.
B) Elbrus – Beyond Elbrus, visiting Russia is an amazing experience. Following our summit success, we were anxious to have an authentic Russian experience. We began our post-climb travel in Pyatigorsk where we visited a local banya (sauna) and were served shashlik (local shish kabobs). This was an amazing experience! The banya consisted of spending time in a hot steam filled room where we used eucalyptus leaves to beat and exfoliate our skin. Following the steam room we were led outside where we jumped into a small lake. The experience had a re-energizing effect while enjoying local culture. We also visited hot springs in this area prior to our departure. From Mineralni Vody we flew to St. Petersburg where we visited classic Russian sites and churches (including the Winter Palace). St. Petersburg has a very European feel to it and the city was easy to navigate.
We finished our day in St. Petersburg by boarding a midnight sleeper train headed for Moscow. We opted for a private train car and it was fantastic! This truly was one of the highlights of our trip. We were served dinner and breakfast and had a comfortable place to sleep. The next morning we awoke in Moscow where we spent another full day sight-seeing. Visiting Red Square, the Kremlin, and St. Basils Cathedral were as impressive as expected. Something we had not anticipated was the unique art and cultural experience of the Moscow subway system (metro). Each stop had statues, art, and other things to see. The halls of the metro had well-trained musicians and thanks to the acoustic effects of the stations, this music was greatly amplified. Moscow was an impressive city, and had a very different feel from St. Petersburg. Although we preferred St. Petersburg overall, both cities had neat things to offer and were well worth our time visiting.

We planned our post Elbrus activities through Beyond Red Square and we could not have been happier with the level of professionalism and quality of personalized tours that they provided. After our whirlwind trips through St. Petersburg and Moscow, we began our long flight back to the US from Moscow's SVO airport.
About the Author:
Kevin Abernethy is a traveler that loves spending time outdoors and has a great passion for mountaineering. Kevin is currently working on climbing the seven summits and has successfully summited Mount Kilimanjaro (Africa) and Mount Elbrus (Europe) with plans to climb Australia's Mount Kosciuszko in 2019, as well as several other notable peaks in Ecuador.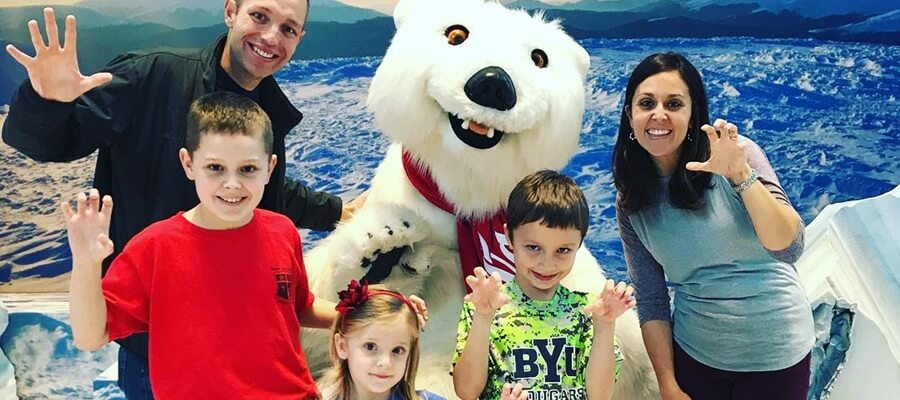 He is grateful for the support from his wife, Katie, in pursuing his passion for climbing. Kevin and Katie are currently raising their three children in Houston, TX.