This past June, American Dawn Barberi and her 17-yr. old son Connor had an incredible shared experience, climbing Mt. Elbrus and then touring St. Petersburg & Moscow together.  Read further to hear about their experiences from Dawn, in her own words:
Q: So what's the story behind you and Connor deciding to climb Europe's highest peak together?
A: A bit about us.  My oldest son Connor (17 yrs. old) would be graduating from high school in June 2019, and leaving home within 3 weeks after graduation to attend college halfway across the country. This didn't leave us much time to fit a meaningful mother/son bonding trip into the schedule.  I asked him what his ideal trip would include, and gave him a budget and time frame. Knowing I climbed one of the Seven Summits a few years back (Mt. Kilimanjaro in Africa), he asked if I would like to try another of the Summits. After some doing research about Mt. Elbrus, the timing was spot on. Another of his interests includes history, particularly military history, and Russia is filled with this!
Connor accepted an appointment to the United States Air Force Academy. Since we live in New Jersey, we thought the Caucasus region would be a good precursor to the altitude he would eventually experience in Colorado.
Q: Are you and Connor experienced climbers?
A: We are an active family. Connor and I like to experience challenges and push ourselves to see what we are made of. I don't believe Connor knew what he was in for with the extreme altitude and exhaustion of summiting one of the Seven Summits. He has always been involved with sports such as wrestling, swimming, and crew. We chose to climb together to experience a life-long memory that only we could share.
This was actually Connor's first experience climbing, and I wanted to know he would be in the best hands possible, since I'm by no means a professional mountaineer. One of my must-haves was an experienced climbing guide for our summit attempt, and we got that in our guide Sasha; what an amazing woman!
Q: Tell us a bit about your and Connor's 8 days on Mt. Elbrus – What were highlights & lowlights of attempting this feat together?
(***The following are excerpts from Dawn's daily trip journal)
Days 1-2 – Arrival in the Caucasus and acclimatization at 8,000-10,000 feet above sea level
Day 1- We arrived in Moscow this morning, then made the domestic flight to the Caucasus, followed by a beautiful 3-hr. drive to Mt Elbrus. Sasha, our guide on Elbrus, was waiting for us at the MRV airport. Checked into the hotel with dinner and bar in the lower level of hotel. The hotel staff was friendly and understood English, rooms were convenient with full size refrigerator. This hotel was for our pre- and post-climb so we could keep our luggage in a locked room and our valuables in a locked box. The location was within walking distance to local markets tucked away in a scenic location.
Day 2– After getting some much-needed sleep, today we accomplished an acclimatization hike with our guide Sasha. This was a relaxing, peaceful day to acclimatize on. We took our time hiking to the Observatory/Terskol peak around 10,000 feet and got to know each other and the surrounding Caucasus region.
Days 3-5 – Move up to base camp and acclimatization at 13,000-15,000 feet
Day 3 – Today we headed up Elbrus to base camp. We had anticipated this day for many months, and it was finally here! We rented quite a bit of climbing gear, as we did not want to buy a lot back home, knowing we may not use it again for quite some time. Connor and I had a good laugh when the rental guy asked if we needed "googles and a puffy" (goggles and a down jacket). Ski glasses are a must-have on the mountain, along with a high-SPF sunscreen and lip balm. Before heading up to base camp, we stopped at a local grocery store to stock up on snacks and fruits to bring with us.
Just getting to our huts at Elbrus base camp was an excursion of its own. With all our gear packed in a large duffel bag, we maneuvered our way up three different ski lifts to the starting point, our hut surrounded by snow. Upon arriving at the huts (approx. 13,000 feet), we were out of breath and exhausted but excited for the adventure. We settled in to our room, which was quite a surprise. The heated room contained four sets of bunkbeds; as of this day, we had the room all to ourselves. We were surprised to also have spotty access to Wi-Fi.
Downstairs was a large foyer and restaurant with bar. Each day we could put our water bottles on a table and have them refilled. Hydrating is one of the most important things to do to prevent altitude sickness. After settling in, Sasha wanted us to try a short one-hour acclimatization hike. After reaching our destination, Connor started to feel a slight headache coming on so we started our descent. That evening he couldn't stop throwing up and his headache got worse. He tried to stay hydrated but still threw up all night.
Day 4 – Connor felt horrible, weak and disappointed. We all sat at the breakfast table and Sasha mapped out a plan for us with encouragement and guidance. We all decided it was best to get off the mountain today and head back down to a lower altitude, with the possibility of heading back up later that night or even spending an extra night at the base of the mountain. At the bottom of ski lifts is a cute little town with local restaurants. We sat under an outdoor patio and tried to have Connor eat something light. He started to feel slightly better. We took a taxi back to our original hotel. The staff were very accommodating and let us relax there for the day. We took a walk around the area and Connor felt good enough to head back up to base camp that afternoon.
Day 5 – In our original itinerary, Day 5 would have been a rest day before attempting to summit on Day 6. Since we used Day 4 for rest, today would be a practice climb to Pastukhov Rocks at 15,000 feet. As a mom, I was still quite nervous how this climb would go. Connor was feeling rested with no signs of altitude sickness starting out the day. I knew this climb would tell all. Slow and steady was the pace. Sasha led the way and showed us proper climbing and breathing techniques. Each hour of the hike, we stopped for a few minutes to hydrate and eat. We felt accomplished heading back down. Later that evening we spent time learning to use our ice axe and clipping into a fixed rope.
We spent dinner discussing the best options for our summit day attempt. Sasha was open to all our suggestions and desires. She was ultimately willing to do whatever we chose, however she gave her honest and professional opinions regarding a successful, safe climb. This also had to take into account the ever-changing weather. Weather on Elbrus can be hard to predict. The next two days were calling for storms later in the afternoon. Day 6 was looking better than Day 7. So tomorrow it would be!
Now for the issue of the snow cat (or tractors/tanks). Mt Elbrus has snow cats available for a fee to take climbers up and down parts of the mountain. My son was adamant about not using a snow cat because, in his mind, that would be cheating. He didn't like the idea of not climbing from the starting point of our hostel. However, in all honesty we already utilized a ski lift three times to get to the hostel from the base. Sasha asked us what our main goal was: to reach the summit or to know we did the climb our way, with the possibility of not summiting due to weather and time? Ultimately we decided to take the snow cat to its first stop at Pastukhov Rocks. We had already climbed to that point on Day 5, so technically we felt okay starting our initial summit attempt from there.
The weather was going to be our main issue. Sasha did not want us on the mountain in the afternoon with the storms coming. These storms can be extremely dangerous. We would need to be off the mountain by 12:00 noon in anticipation of the storm. We planned on starting our journey at 1:00 am the next morning, with a 2:00 am snow cat time. And so the plan was in place.
Day 6 – Summit Climb up to 18,542 feet
Day 6 – 1:00 am: awake, somewhat rested, and feeling excited. We went down to the restaurant to grab a quick breakfast and fill up our bottles, hit the outdoor restroom and gear up. Crampons on, down jacket on top of a few layers, headlamp on, gaiters on, harness on, gloves and hat on, sunscreen on. One last gear check. Away we go. The snow cat is an experience of its own. We shared the cost with a group of Chinese climbers. The first stop at Pastukhov Rocks we got off and started on foot, however the Chinese group chose to go as high as the snow cat would take them (16,000 feet).
In the darkness and chill of the air we were left on the mountain, just the three of us. The snow cat pulled away and we began the journey. Steep, steep, steep icy start. Each step took our breath away. "Doing well," Sasha would say. "How much longer to rest?" I would respond. I need a goal and my goal was to make it to each rest stop. Frustration set in when we realized we were not getting far and the time it was taking to get a few steps up the mountain. It was in this moment my son realized this was not going to be as easy as he thought. "One step at a time," I stated aloud.
Certain areas were very narrow, not leaving much room for error. The sun rose over the horizon bright with a chill in the air. Sunscreen and sunglasses were a must now. Upon arriving to the Saddle (17,750 feet), we attached our safety harness onto fixed ropes and took out our ice axe. The steepest part of the climb was about to begin. The gradient is roughly at 45 degrees. Around halfway up I was totally exhausted. Lucky for us, we were stuck behind a group of climbers and had to go at their pace. This allowed us to get a few extra seconds of rest with each step. It didn't last long because Sasha knew the storm was brewing. At one point she said we were going to go around them. I reluctantly took a quick glance back at my son who was totally exhausted as well and said, "NO…not yet." After a couple more minutes of waiting patiently Sasha said,"We have to make a move…now." Around we went, double time! Took all the energy we had left but a rest stop was in sight.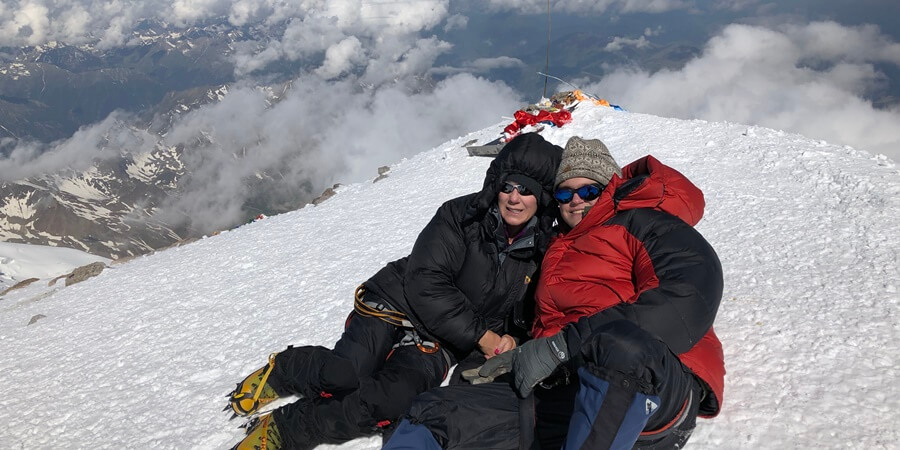 The weather was quickly changing for the worst. Dark clouds and thunder all to our right. The summit was so close. We could not rest long, however we could leave our backpack and retrieve it on the descent. Just over a ridge the summit became visible. I was overwhelmed with emotions knowing just how close we were. The thunder was loud and the wind was strong. Each step was exhausting to the point of collapsing at the summit. Quick pictures and smiles turned into the dreadful thought of now descending. The threat of the storm was real and fast approaching. Our celebration was short lived and down we went as fast as we could. (***Dawn, Connor, and Sasha made it safely back to their huts!)
Days 7-8 – Post-Summit Descent to bottom of mountain
Day 7 – Today we said goodbye to the mountain that challenged us but we were ready to start exploring Russia and its northern capitals. Connor and I fought for shower dibs and ultimately I won the right. Dinner was a celebration with certificates presented to us. Sasha said we were her first to summit of the season and that was a good sign of how the season will go.
Q: Wow, what an amazing recap, Dawn, thank you! You and Connor also toured St. Petersburg & Moscow after climbing Elbrus – What were your and his favorite experiences in these beautiful cities?
(***Continued excerpts from Dawn's travel journal)
St. Petersburg & Moscow Travels
A: Day 8 – We woke up at 5:00 am today to take the long drive to the airport. We were heading to St. Petersburg and had the evening free to explore. Upon arriving, we noticed it was almost a different world from the Caucasus region. A young city with a lot of activity, history, and cultural heritage. Shortly after getting settled into our hotel, my son asked if I wanted to grab a bite to eat. I said I would go wherever he chose. Immediately, I found myself being led down the roads of St. Petersburg to a burrito shop. He navigated the roads like only a teenager could. We chose to attend the Russian ballet of Swan Lake that evening. It was breathtaking and Connor went without complaints, but overall it wasn't our cup of tea. At 1:00 am, we watched one of the St. Petersburg bridges open for the night, which is a beautiful site during the famous "White Nights".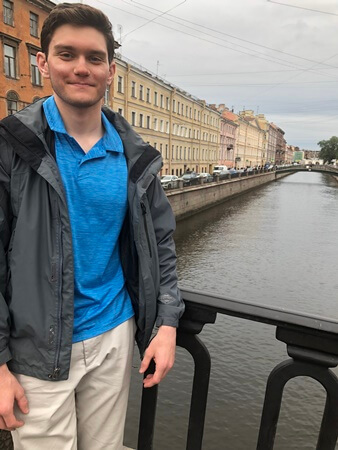 Day 9 – Today was our tour of St. Petersburg. This day was arranged ahead of time and included a driver and English-speaking guide. They picked us up at our hotel at 9:00 am and our full day began. We toured the Hermitage, Peter and Paul Fortress, Church of Spilled Blood, and St. Isaac's Cathedral. We ate lunch at an authentic Russian restaurant and of course had tea with our meal. We also were able to attend a Russian Orthodox service for a short time. Our guide and driver took us to the train station to catch the Sapsan high-speed train to Moscow. We enjoyed the ease and comfort of the train and would highly recommend it over flying between the two cities. On the train platform, our Moscow driver was waiting for us with a sign. We checked into our hotel and anticipated what our last day in Russia would be like, in majestic Moscow!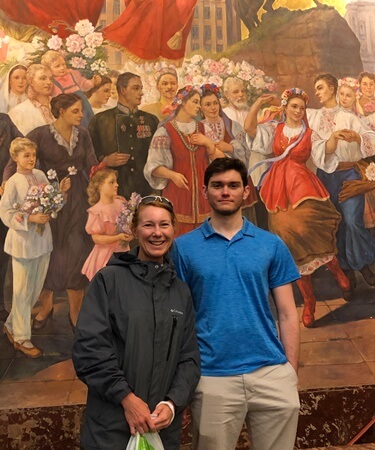 Day 10- Our guide and driver met us in the hotel lobby. We were ready for a packed day with a flight home later in the evening. We knew we had a tight schedule so we packed all we could into one day. Our tour included all the "must-sees" in Moscow, including Red Square and the Kremlin Territory. Our guide knew a lot of history and answered all our questions. One of the many highlights of Moscow was viewing the underground metro. Our guide took us to many different metro stations and explained the art work and the beauty of each stop. Our afternoon tour of a Cold War Era Underground Bunker Museum was a perfect ending to our cultural and historical tour of Russia.
Q: What an action-packed trip, that's amazing you did all of that in just 10 days! What advice would you give to other parents considering doing a trip like this with one of their kids?
A: Nothing in the world can compare to precious time spent with your child. If you and your child like a challenge and enjoy traveling, climbing Elbrus and visiting Russia is for you. As a mother, my job is to instill a love for adventure and fitness into my children. Bonding with your child on the mountain while being surrounded by nature is something I would wish every parent could have a chance to experience.
Click here to read Dawn's review of Beyond Red Square's services in helping plan her and Connor's adventure.